Ryanair Says Brexit Concerns Preventing More Share Buybacks
(Bloomberg) -- Ryanair Holdings Plc is putting plans for future share buybacks on hold due to uncertainty surrounding the U.K.'s proposed exit from the European Union.
Europe's biggest discount carrier completed a 750 million-euro ($863 million) program this month, but doubts over how a so-called Brexit will play out have forced to hold back on further announcements.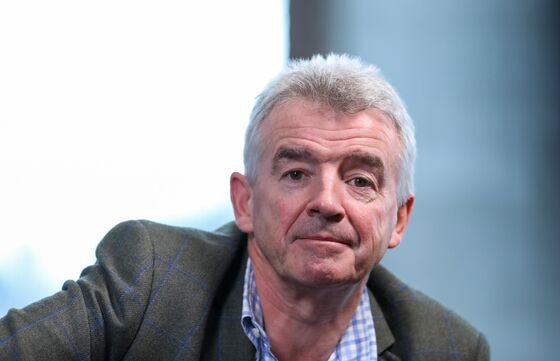 "It makes very little sense to us at the moment until we get some certainty," Chief Executive Officer Michael O'Leary said in an interview on Monday.
The likelihood of a no-deal situation "is rising," the carrier cautioned in a statement, adding that it's hoping for a 21-month transition period to be agreed between the EU and U.K. If not, Ryanair will restrict the voting rights of all non-EU shareholders -- including those in the U.K. -- to ensure the airline remains in compliance with a rule that EU airlines must be more than 50 percent owned by EU investors.
"We may well want to hold back and use a share buyback in the spring of next year if there looks like there is going to be a hard Brexit," O'Leary said. Currently, on the day after a hard Brexit, Ryanair's non-EU shareholding would be around 55 percent, above the 50 percent threshold, he said.
The shares rose 3.8 percent to 11.95 euros as of 8:04 a.m. in Dublin.
O'Leary was speaking after Dublin-based Ryanair reported its first decline in first-half earnings for five years amid rising fuel prices, various industrial action and staff shortages. The carrier gave a particularly gloomy outlook for the wider sector.
More airlines will go bust. In its statement, Ryanair made a point of listing six carriers that have folded and predicted that that will be just the beginning as oil prices and interest rates rise and the U.S. dollar continues to strengthen.
Ryanair is also feeling that pain. Its fuel bill will be 460 million euros higher this year and the airline is aiming for breakeven over a winter that will be hit by further declines in ticket prices.
The company earlier forecast full-year earnings will be about 150 million euros below its original guidance. If fares fall worse than 2 percent, or if fuel prices continue to climb, that guidance could be adjusted further, the CFO said.
There's also a bright spot in the medium-term. The tough times for smaller carriers mean Ryanair has been able to pick up second-hand aircraft for its Austrian unit, Laudamotion, at better prices. It's also being offered better deals to fly to particular airports.