Ryanair CEO in Talks About New Order for Grounded Boeing Max
Ryanair Holdings Plc Chief Executive Officer Michael O'Leary said the European discount airline is in talks with Boeing Co. about a follow-on order for the U.S. manufacturer's grounded Max model.
While the Max has been idled worldwide for close to a year after two fatal crashes, Ryanair is in "active discussions" to buy more of the narrow-body planes, O'Leary said Tuesday in an interview with Bloomberg TV in Brussels.
A new deal from Ryanair would provide a boost for Boeing as it grapples with remaining issues to get the Max flying again. The Irish carrier is one of the biggest customers for the crisis-hit model with 210 orders, though it has yet to take any deliveries, raising the possibility of it switching loyalties to Airbus SE.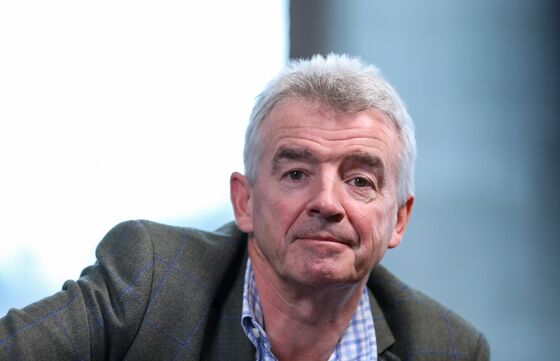 O'Leary didn't rule out buying jets from Airbus but said the European company would need to cut its prices and come up with more attractive delivery slots.
"If the price is right we'll buy aircraft," he said. "I'm only interested in aircraft that will enable me to lower my operating costs. Airbus's order book has been largely full and the pricing has been high for four or five years."
The CEO said the talks with Boeing concern taking more Max 200s, a high-capacity variant of the baseline Max 8 model specified by Ryanair, together with the carrier's first batch of bigger Max 10s. The order would satisfy delivery requirements from 2024 through 2028.
O'Leary said he understands that work to address final fixes required for regulators to approve the return of the Max, including wiring and software issues, should be completed by the end of April, paving the way for flight tests through May.
That would allow U.S. carriers to begin operating the model again in June and July, though the CEO said he's doubtful that it will resume service in Europe before the end of the summer.
Ryanair expects to get its first aircraft in September or October, partly reflecting the need for the Max 200 to clear separate certification hurdles. O'Leary said 20 planes destined for the carrier are already built and that they'll probably begin commercial flying in November.
O'Leary was appearing at the Airlines for Europe 2020 aviation summit in the Belgian capital.