Russian Rocket Program Sputters in New Race to Space
(Bloomberg) -- Russia's space program took a step toward repairing its reputation for reliability after a failed launch added to concern over unprecedented foreign competition for getting into orbit.
On Monday, the Roscosmos agency sent the first crew into space on a Soyuz rocket since a booster failure on a similar model forced Russian Alexey Ovchinin and American Nick Hague to abandon their mission minutes after liftoff in October. They made the first emergency landing in the craft since 1975.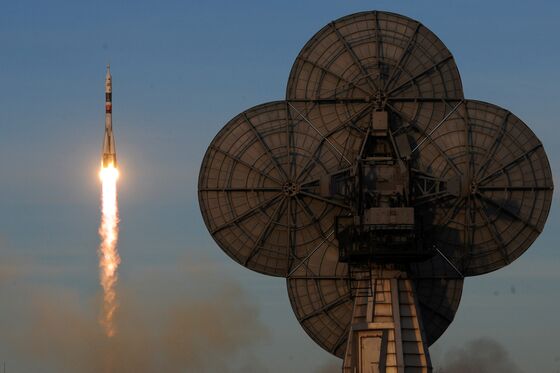 NASA Associate Administrator William Gerstenmaier was on hand for the launch at Kazakhstan's Baikonur Cosmodrome to ferry Russian cosmonaut Oleg Kononenko, U.S. astronaut Anne McClain and Canadian David Saint-Jacques to the International Space Station. The crew confirmed that it safely reached orbit according to a live feed on NASA's website, and plans to link up to the ISS early Tuesday in Moscow.
The successful mission won't dispel the storm clouds on the horizon for Russia's space program, however. Recent setbacks at Roscosmos, including a series of failed launches and accusations of misspending, have tarnished its Soviet legacy as the first manned space program. Adding to the woes, the program now faces the prospect of reduced revenue as a seven-year monopoly on ferrying people to the space station comes to an end.
"They are obviously concerned" about losing income from sending U.S. astronauts into orbit, Gerstenmaier said in an interview in Moscow before traveling to Baikonur. "They share some of the same problems we do -- there's a finite amount in the budget in our countries and space flight is part of the discretionary budget."
Billionaire Elon Musk's Space Explorations Technologies Corp. and Boeing Co. have contracts to deliver astronauts to the ISS starting next year under NASA's Commercial Crew project. A raft of start-ups around the world also use cheaper rockets to put slimmed-down satellites into space, presenting a challenge to Roscosmos's lucrative launch business.
Roscosmos's press service declined to comment on the potential loss of revenue from NASA. It has earned some $2.6 billion from the U.S. for carrying astronauts and equipment to the ISS since NASA retired its fleet of space shuttles in 2011.
Russia's market share for rocket technology worldwide fell slightly in 2017, which Roscosmos blamed on sanctions, the weak ruble and increased competition, according to its annual report published on Friday. It singled out SpaceX for allegedly undercutting the market thanks to U.S. government assistance.
Reliant on Soviet technology developed decades ago, Russia may find it's increasingly overtaken in the new space race. While NASA has a contract to send astronauts to the ISS with Roscosmos until February 2020, it will stop paying for seats on the Soyuz after that if the Commercial Crew program goes to plan, Gerstenmaier said.
The windfall funding from the U.S. hasn't always been spent wisely. Alexei Kudrin, the head of the country's Audit Chamber, told Russia's lower house of parliament in June that he found 760 billion rubles ($11.4 billion) of financial violations in Roscosmos's books.
"Several billion have been spent, basically stolen, that we are currently investigating," Kudrin said in an interview aired Nov. 25 on state-run Rossiya 24 TV. "Roscosmos is the champion in terms of the scale of such violations."
Kudrin's criticism related to a 2017 audit, Roscosmos told the Tass news service. President Vladimir Putin appointed Dmitry Rogozin, a former deputy prime minister, as the new head of Roscosmos in May this year.
The agency has faced a series of other problems. A critical defect was discovered on a launchpad of its newest cosmodrome, Vostochny, in Russia's Far East, RBC newspaper reported. Separately, a commission is still studying the cause of a mysterious hole found on a Russian module of the ISS. A spacewalk is planned for Dec. 11 to investigate the issue further, though a final report isn't expected until February, according to Gerstenmaier.
Even so, the Soyuz remains the most-used launch vehicle in history and Roscosmos has had successful unmanned launches since the failure in October, which it blamed on a sensor that was damaged during assembly.
"We see tremendous advantages in us working together and cooperating," Gerstenmaier said. If the two agencies also pursue "dissimilar capabilities, or there's even a little competition in some areas, that's healthy too," he said.