Chokepoint Blockade Exposes Supply Risk for Black Sea Grain
(Bloomberg) -- Russia's brief blockade of a key shipping channel for Black Sea grain highlights the risk of disruption to an important source of global supply.
Russia cut off access to the Kerch Strait between the Sea of Azov and the Black Sea after tensions with Ukraine flared up over the weekend, and has since reopened the passage. Still, the conflict means some traders will likely reroute cargoes to avoid passing through the strait, according to the Ukrainian Grain Association.
"We are expecting a record harvest this season, and we plan record exports," said Mykola Horbachov, head of the Ukrainian Grain Association. "So any window that is being closed for us means heavier pressure on our infrastructure, both seaport and railway. We are stretched to the limit."
Ukraine ranks among the world's biggest corn and wheat producers, supplying food to major markets in Europe, the Middle East and Asia. Analysts said they didn't expect much market impact because the proportion of Ukrainian grain that moves from ports on the Sea of Azov is relatively small, and the incident seems limited so far.
Grain markets largely shrugged off the news. Benchmark prices in Chicago rose 1 percent and milling wheat futures in Paris added 0.2 percent.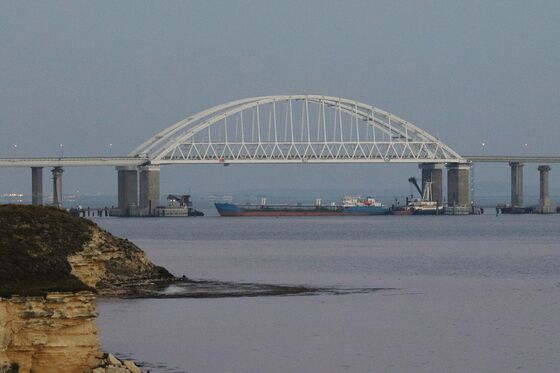 Shipments from the Ukraine ports of Mariupol and Berdyansk make up about 5 percents of the country's grain exports, and cargoes that had previously planned to leave those areas may instead move by rail or other ports, Horbachov said. The two ports are on the Azov Sea and rely on the Kerch Strait.
"In terms of grain exports, it won't have a big impact because I don't think that Russia will stop their boats in the Kerch Strait, and in terms of Ukraine exports, there is not a lot of exports from the Azov Sea," said Gautier Maupu, a Black Sea grains analyst with Agritel in Kiev. "Russian exports will not slow down, so there will not be a strong impact on markets."
Still, the blockade highlights the threat of disruption to Black Sea supplies just as global grains markets are buffeted by the trade war between the U.S. and China. Wheat has jumped about 20 percent this year in Chicago as heat and dryness worldwide curbed output, including in the Black Sea.
"It's a worry, but immediately now, it's not too dramatic," said Charles Clack, a London-based analyst at Rabobank International. "It drives this uncertainty in the trade and perhaps for importers who rely on Ukrainian grain imports."
Russia ships a significant amount of grains through the strait, but it's unlikely to block its own cargoes, said Darin Friedrichs, a risk management consultant at INTL FCStone Inc. in Shanghai.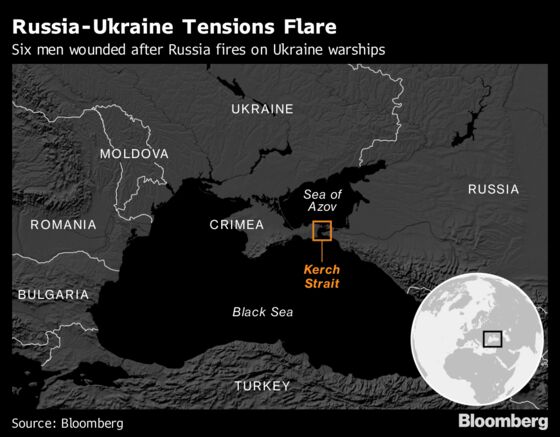 Global commodity markets are exposed to a number of maritime chokepoints around the world, from the Straits of Malacca to the Suez Canal. Any disruption to shipments through these waterways can lead to supply delays, potentially pushing up the cost of transportation and commodity prices.
Earlier this year, Russia completed a 19-kilometer (12-mile) bridge across the Kerch Strait, prompting complaints from Ukraine that it was being used to delay its ships, exert political pressure and hurt the country's economy.
A UN Security Council meeting has been called for 11 a.m. in New York on Monday, according to U.S. Ambassador Nikki Haley. NATO has urged "restraint and de-escalation," adding it fully supports Ukraine's sovereignty and called on Russia to ensure unhindered access to Ukrainian ports in the Azov Sea.