A Secretive Russian Oil Company Is Sitting on $51.6 Billion in Cash. Now Its Stock Is Surging 
(Bloomberg) -- Shares in Surgutneftegas PJSC, the Russian oil company sitting on a $51.6 billion cash pile, are on a tear for the ages and nobody has a good explanation for why.
The ordinary shares are up 33% on massive volumes this week. Surgutneftegas's preference shares also have been on a wild ride, losing nearly a third of their value in July before recovering much of that decline over the past three days. Even after the surge, the company's market value is less than half its net cash position.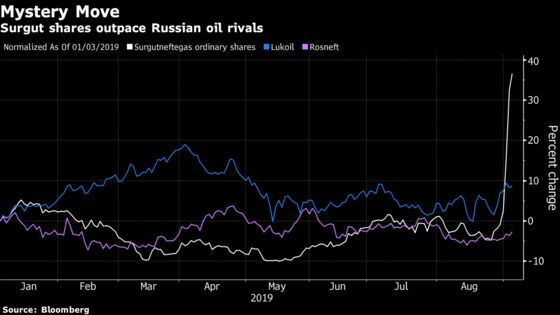 The increase came after Surgutneftegas created a new securities unit, Rion, potentially opening the door for it to invest some of the cash pile -- which mostly sits as deposits in large state-owned banks, forming a critical part of their capital -- in higher-yield vehicles.
But such exuberant gains seems premature given that little has been disclosed on Rion, a subsidiary with 10 million rubles ($150,000) in authorized capital, according to Luis Saenz, co-head of equities at BCS Global Markets. Surgutneftegas has always been viewed as Russia's "dark horse," said Saenz, who recommends investors stand pat until more details emerge.
Surgutneftegas's press service declined to comment on its plans for Rion or on the share price increase. Russia's market regulator didn't immediately reply to a request for comment. The silence around the mysterious move highlights the opaque nature of Russian capital markets.
"Where else in the world could a stock trade at one third of the value of the cash on its balance sheet?" said Julian Rimmer, a trader at Investec Bank Plc in London.
Surgutneftegas, Russia's fourth-largest oil producer, is among the country's most secretive companies, and who owns it is subject to wide speculation. It has been run for more than three decades by Vladimir Bogdanov, who has been on the U.S. Treasury's sanctions list since 2018, and is owned mostly by its employees, according to public statements from government officials.
The opaque ownership structure is reminiscent of a Russian nesting doll, with more than 75% of the company held at the end of 2016 by about two dozen firms with interlocking ownership that are all registered in the Siberian city of Surgut, where its main oil assets are located. None of them have more than 5%, meaning the company doesn't need to disclose their names.
Analysts at Sberbank CIB raised Surgutneftegas shares to buy from hold Wednesday, saying it is "hard to ignore the size of its net cash position." They boosted the target price on the preference shares to the equivalent of about 73.10 rubles from 33.28 rubles, saying they will now factor in half of the company's cash pile into the target.
The preference shares climbed 2.2% to 38.90 rubles at 2:30 p.m. in Moscow, while the ordinary shares increased 2.9% to 36.54 rubles.