Russia's Biggest Cut Diamond Fetches $14.1 Million at Christie's
(Bloomberg) -- A flawless 100.94-carat colorless diamond that's considered to be the biggest polished gem from Russia sold for 12.84 million Swiss francs ($14.1 million) at Christie's in Geneva.
The Spectacle, which was cut from a rough stone discovered by Alrosa PJSC at an alluvial mine in Russia's Far East in 2016, took a year and eight months to prepare and polish in Moscow. The gem hammered at 10.9 million Swiss francs before auction house fees were applied. It was estimated at 12 million to 18 million Swiss francs, according to Christie's website.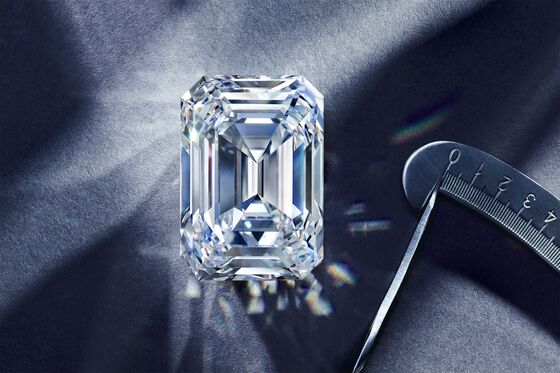 The sale comes as the diamond industry roars back to life after cutting centers in India and Antwerp rushed to replenish supplies they'd been unable to buy during the worst of the coronavirus pandemic. Still, the biggest gems are normally resilient to price swings in the wider market given their rarity and the fact that few people people in the world buy them.
The Spectacle gave its name to the collection of gems dedicated to the Russian ballet. It's the third D-color, 100-carat-plus diamond that Christie's has sold in the past 10 years, according to Rapaport Group. The 101.73-carat Winston Legacy fetched $26.7 million in Geneva in 2013, and the 163.41-carat Creation I was sold for $33.7 million in 2017.