Russia Keeps Lid on Oil Output Ahead of Talks With Saudi Prince
(Bloomberg) -- Russia's oil output in November fell from near-record levels as President Vladimir Putin prepares to meet Saudi Crown Prince Mohammed bin Salman this week ahead of crucial OPEC+ talks in Vienna.
Russian oil companies have pumped 40,000 barrels a day less than in October, when they set a post-Soviet record of more than 11.4 million barrels a day, Energy Minister Alexander Novak told Bloomberg Wednesday in Moscow. The country has seemed reluctant to commit to further supply cuts and will discuss the matter with its OPEC allies next week.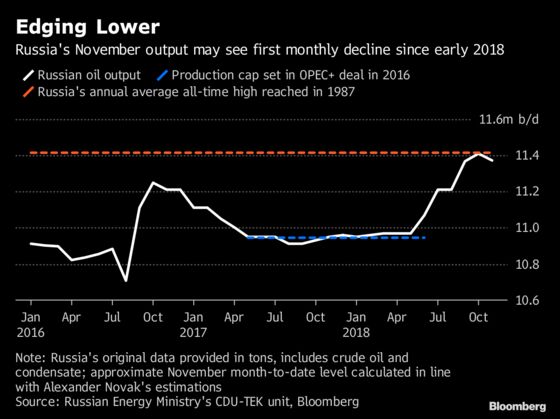 With Brent plunging more than 30 percent since early October, Saudi Arabia has suggested coordinated production cuts from the Organization of Petroleum Exporting Countries and its allies. Most analysts and traders expect that will be agreed next week, but Russia's participation is less certain. Talks between Putin and Bin Salman on the sidelines of the G-20 meeting in Argentina could bring the two oil powerhouses closer together.
Ask Julian Lee questions in our OPEC Q&A on Nov. 29 at 9 a.m. New York time
If Russian companies keep pumping at current levels for the remainder of November, it'll be the first monthly drop in production since January. The reduction, however, is not necessarily a signal that Russia is ready to return to sustained output cuts.
"The decline seems driven by seasonality, maybe some other factors at individual fields rather than intentional steps to cut oil output ahead of the OPEC+ talks," Raiffeisen Centrobank analyst Andrey Polischuk said. "Russia wouldn't want to lose extra revenue until there is a clear decision among OPEC+ countries."
Complicating matters for the Saudis is U.S. President Donald Trump's repeated calls for lower oil prices after the White House supported Bin Salman following the murder of Jamal Khashoggi. The kingdom was this week said to be producing at record levels above 11 million barrels a day.