Bank of Russia Warns on Inflation Risks As It Holds Rates
(Bloomberg) -- The Bank of Russia warned growing risks of higher inflation may leave no room for further monetary easing after it kept the key rate unchanged at a third consecutive policy meeting.
The key rate was kept at 4.25% on Friday, the lowest level on record, after 200 basis points of cuts earlier this year. The central bank left the door open to further monetary easing, but altered the language in the statement to suggest there may not be any further reductions. Russian government bonds fell for the first time in four days.
"We continue to talk about space for easing, but probably not as confidently as before," Governor Elvira Nabiullina said at a news briefing following the rates decision. "There is lots of uncertainty now about the outlook for the economy and inflation."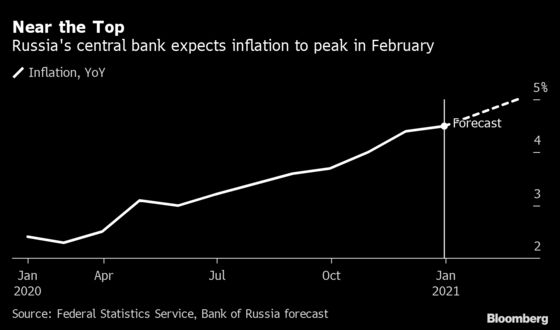 Inflation has become a political issue, with President Vladimir Putin last week ordering the government to take urgent measures to reduce prices of key staples. The central bank raised its forecast for year-end inflation to 4.6%-4.9% from its previous forecast in October of 3.9%-4.2%. The estimate for the end of next year was kept at 3.5%-4%.
"With headline inflation surging toward 5%, the central bank had little choice but to introduce some hawkish undertones into its statement," said Tatiana Orlova, an analyst at Emerginomics in London. "Still, there is no hint that they could start considering rate hikes if inflation continues to rise."
The central bank said pro-inflationary factors are lasting longer than expected, but monetary policy will still remain accommodative for all of next year. A handful of economists had suggested that the bank may consider a rate increase if inflation continues to climb.
Measures to control food prices aren't likely to have a full impact this month, Nabiullina said, adding that price controls shouldn't be implemented before the government has tried out other economic measures to curb volatility.
What Our Economists Say:

"Soft underlying price pressure probably still favors a cut, but the central bank will need at least a few months of data before it has confidence in that outlook. That could delay its next move until March or later."

Scott Johnson, Bloomberg Economics. Here's the full RUSSIA REACT.
The jump in inflation was partly caused by a nearly 16% slump in the ruble this year, which has fed through into consumer prices. The currency has appreciated in the past two months, but slumped with other emerging-market currencies on Friday due to a drop in oil prices and reports of a Russian hacking campaign in the U.S.
The hawkish tone dimmed expectations for a cut in the months ahead and 10-year government bonds, also known as OFZs, fell for the first time in four days, lifting the yield three basis points to 5.83%.
"A lot was already priced into OFZs, but given the harsh rhetoric, the pressure continues," said Iskander Lutsko, a strategist at ITI Capital in Moscow.