Russia Hikes Rate, Signals More Tightening as Inflation Surges
The Bank of Russia delivered its third straight increase in interest rates and said more will be necessary as soon as next month as it struggles to contain a spike in inflation.
The benchmark rate was hiked 50 basis points to 5.5% on Friday, the highest level in more than a year, the Bank of Russia said in a statement. The central bank considered a raise of 100 basis points, which would have been the biggest increase since the 2014 ruble devaluation, but decided to wait for more data, Governor Elvira Nabiullina said after the decision.
"Another rate hike in July is very likely," she said at an online news briefing. "Our main goal is to bring the pace of price rises under control as quickly as possible."
Nabiullina is battling a surge in consumer prices that has pushed annual inflation above 6% for the first time in more than four years. The central bank has increased interest rates by 125 basis points since March, but warned Friday that inflation won't return to its 4% target until the second half of next year. The ruble traded at a 10-month high against the dollar following a rally this week.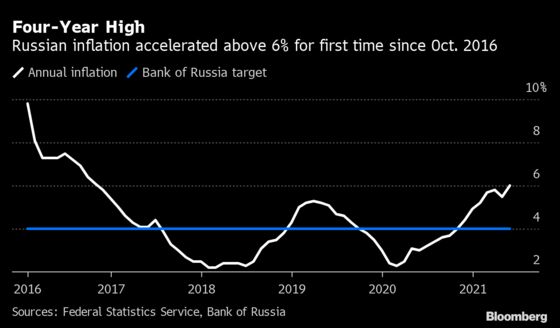 "The statement sounds very hawkish," said Tatiana Orlova, an analyst at Oxford Economics in London. "On the back of the statement alone, I expect another 50 basis-point hike at the July meeting."
Annual inflation accelerated further to 6.15% as of June 7, according to the central bank. Consumer price growth is worrying the central bank "more and more" and a year-end forecast will be revised up, Nabiullina said. Inflation expectations need to be knocked down to prevent an inflation spiral from taking hold, she added.
The economy is recovering faster than expected and will return to a pre-pandemic levels in the second quarter, according to the statement. Growth could be held back, however, by low vaccination rates and the spread of new coronavirus strains, the central bank said Friday.
What Our Economists Say:

"Further hikes are a given. The central bank may need to take the key rate above 6% to regain control of inflation expectations."

--Scott Johnson, Bloomberg Economics. Click here for the full note.
A surge in global commodity prices has pushed up pro-inflationary risks and "geopolitical developments" could affect the exchange rate and inflation expectations, according to the statement. Global food prices extended a rally to the highest level in almost a decade this month, increasing concerns about rising grocery bills in Russia.
A rally in the ruble since April should help tame inflation when it follows through into consumer prices in a few months.
The indication of further hikes "supports our view on a stronger ruble over the next few months," said Sergei Strigo, a London-based money manager at Amundi (U.K.) Ltd.