Bank of Russia Hints at Possible Rate Hike as Oil War Rages On
The Bank of Russia bucked a global trend for interest-rate cuts by keeping borrowing costs on hold on Friday and said a rate increase is possible in the near future after the ruble crashed more than 20% this year.
"We are watching risks to financial stability, which usually turn into pro-inflationary factors," Governor Elvira Nabiullina said at a news conference on Friday.
The benchmark interest rate was held at 6% on Friday, but the central bank considered a cut and an increase as potential options, Governor Elvira Nabiullina said at a news conference on Friday. All three options will be on the table again at the next meeting on April 24, but a return to cuts is possible in the medium term, she said.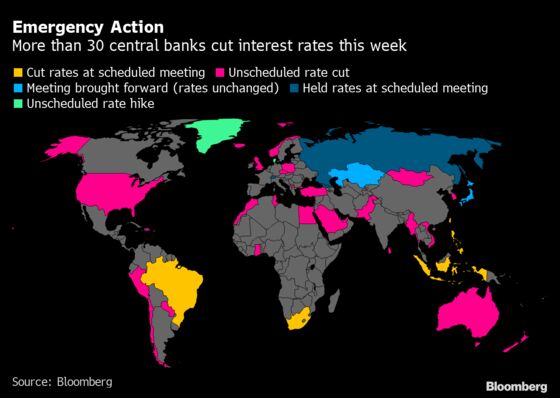 An unprecedented 31 central banks have slashed interest rates this week to try to contain the fallout from coronavirus, which threatens to send the global economy into recession. But the central bank of the world's biggest energy exporter has also been grappling with a clash between Russia and Saudi Arabia that could push the price of a barrel of oil below $20.
"Even the central bank can't predict what they will do, because the situation changes every day," said Tatiana Evdokimova, an analyst at Nordea Bank in Moscow. "The main message is that they are doing everything they can, but when everything is collapsing around you can't fence yourself off."
The central bank sees no risk of sharp consumer price increases, but inflation is likely to peak in the first quarter of 2021, Nabiullina said. She added that the bank is reviewing its macro and oil forecasts.
What Our Economists Say

"Rate cuts are likely to resume eventually, but for now the difficult balancing act is likely to keep policy on hold."

--Scott Johnson, Bloomberg Economics
Growth in Russia will still be positive for the year, and the economy should stabilize in the third quarter, Nabiullina said.
Russia has yet to attribute any deaths to coronavirus, but the economy will be hurt by the slump in oil and by recessions in the European Union and China, its main trading partners.
The country needs oil prices of around $40 a barrel to balance its budget. An average oil price of $25 a barrel would tip the economy into recession, according to a "risk scenario" published by the central bank last year.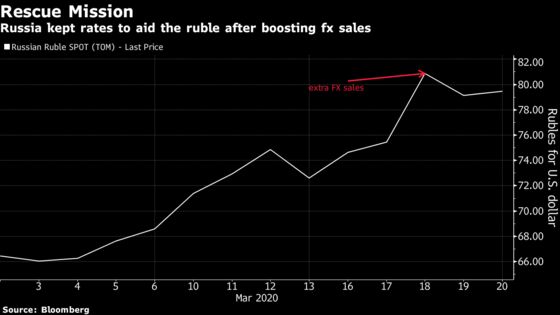 Annual inflation has fallen for 11 straight months, reaching a near-record low of 2.3% in February. The ruble's slide will fuel inflation, but the effect will partly be offset by a slowdown in demand, the central bank said in a statement published earlier on Friday.
The ruble pared an earlier advance on Friday to trade near 79.5 versus the dollar as oil prices resumed their decline. Ten-year bond yields fell and forward rate agreements showed bets for almost 50 basis points of hikes in the coming three months.