Russia Extends Debt-Sale Absence to Longest Since 2014 Crisis
(Bloomberg) -- Surging oil prices and the lowest borrowing costs in more than a month weren't enough to tempt Russia back to the bond market.
The Finance Ministry said it won't sell ruble bonds, known as OFZs, for a fourth straight week to stabilize the market after the threat of U.S. sanctions spooked investors. That makes September the first month since the 2014 ruble crisis that the country hasn't sold any ruble debt.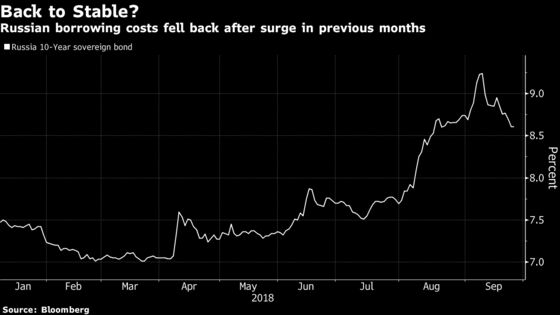 Russian policy makers aren't taking any chances as the U.S. mulls sanctions measures that, in their harshest form, could ban purchases of new sovereign debt and shut state-owned banks out of the global financial system. While noise from Washington has died down in recent weeks, the threat of sanctions hasn't ebbed and a final decision could be delayed by the U.S. mid-term elections.
Foreigners have offloaded about 500 billion rubles ($7.6 billion) of OFZs since the last round of penalties in April, taking non-residents' share to the lowest level in almost two years, Russia's central bank said on Tuesday.
In a sign that the cautious approach is reaping some rewards, Bank of Russia First Deputy Governor Ksenia Yudaeva told reporters in Moscow that buyers are starting to return to the market, bringing "relative calm." With oil prices at a four-year high boosting revenue from exports, the Finance Ministry can easily afford not to push ahead with bond sales.
OFZs maturing in 10 years traded little changed on Tuesday, leaving the yield at 8.6 percent, the lowest level since Aug. 21. The ruble has surged 2.7 percent versus the dollar this month to the strongest level in almost seven weeks.