Russia Defies Trade Angst to Sell Third-Biggest Ruble Bond
(Bloomberg) -- Russia kept up its run of elephantine debt sales, netting more than $1 billion in a single ruble-bond auction on Wednesday.
Investors bid for 115.6 billion rubles ($1.8 billion) of seven-year notes and walked away with 73.3 billion rubles' worth, making it the third largest single sale on record. About 60 percent of the demand came from foreign investors, according to an estimate by Roman Ermakov, the Moscow-based head of fixed income at Lanta Bank.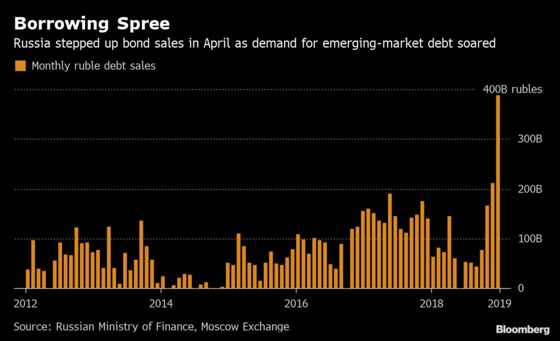 Wednesday's sale wasn't guaranteed to go well. Global investors are wary of riskier assets after U.S. President Donald Trump battered markets with threats of further trade tariffs against China. While the ministry typically offers bonds due in 10 years and above at the long-end, the more cautious tender of seven-year notes with a premium of about 14 basis points ensured interest at the sale, according to Ermakov.
It also helped that the finance ministry paused auctions last week due to public holidays, he said. A sale of three-year notes later in the day raised a further 26 billion rubles.
``The ministry did the right thing in choosing shorter and medium-maturity notes,'' he said. ``There was also pent-up demand for the debt because of the holidays.''
Russia's local debt is among the top performers in emerging markets this year and the Finance Ministry had its biggest month for bond auctions on record in April amid stabilizing oil prices and reduced concerns over fresh U.S. sanctions. The world's biggest energy exporter is running the widest budget surplus in a decade, so doesn't actually need to sell bonds, but bumper borrowing now could be a precautionary move to stockpile cash as the threat of new U.S. sanctions lingers.