Russia and Saudi Differ on How to Share Oil Cuts
(Bloomberg) -- Russia and Saudi Arabia are yet to agree on the details of any new agreement to curb oil production even after President Vladimir Putin endorsed continued cooperation between the world's two largest exporters.
Officials from both energy ministries met in Moscow this weekend, but differed on how to share the burden of any new cuts, according to people familiar with the talks, who asked not to be named because discussions are private. OPEC and allies outside the group meet in Vienna later this week to set policy for 2019.
Oil jumped the most since June on Monday after Putin said he agreed with Saudi Crown Prince Mohammed bin Salman that the two energy giants should keep cooperating to manage the oil market, though he cautioned there was no final decision on volumes.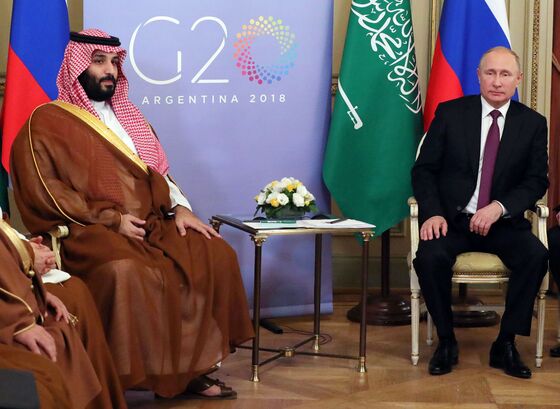 "Whatever final figure we will decide on, we agreed that we will monitor the market situation and promptly respond to it," Putin said while attending the G-20 summit in Buenos Aires this weekend.
In the talks in Moscow, officials differed on how much each side should reduce production, the people said. Saudi Arabia argued Russian proposals, which implied Moscow would cut by a maximum of 150,000 barrels day, would leave the kingdom shouldering too much of the burden, insisting there should be a more equal partnership.
If negotiations between the energy ministers fail to break the impasse, a final deal may need to be brokered directly by the Russian president and Saudi crown prince. In any case, the final deal will need Putin's approval, one of the people said.
On Sunday, OPEC's president, U.A.E. Energy Minister Suhail Al Mazrouei, said he was optimistic OPEC+ will reach an agreement over a cut in production for 2019 when they meet. Technical teams are working on the level of the cuts necessary and the reference baseline for the reduction, he said.
The Joint Technical Committee of OPEC+, which met Monday in Vienna, didn't make any recommendations for the group on supplies, people familiar with the matter said. The panel assessed compliance with the agreed cuts level was 108 percent in October, according to a delegate. Another advisory body, known as the Organization of Petroleum Exporting Countries Economic Commission Board, last week said OPEC needs to reduce production to avoid an oversupply.
Preparations for the meeting later this week were disturbed by Qatar's surprise decision to leave the oil cartel. Although the nation was one of the smallest members, the departure will force officials to re-calibrate production targets for the 14 remaining members.