Soccer's Oil Derby Is a Depressing One
(Bloomberg Opinion) -- When the world's two biggest oil-exporting nations face off on the soccer pitch, as Russia and Saudi Arabia do on Thursday, the contest isn't just about the players' ability: It's also about which nation can better harness its resource wealth to get soft power wins.
Since the International Federation of Football Associations (FIFA), soccer's global governing body, started ranking national teams, Saudi Arabia has mostly trailed Russia. Now, however, the Saudis field the (narrowly) favored team, despite ranking 67th in the world. Russia, which has at times ranked in the top 10, languishes in 70th place, its all-time nadir.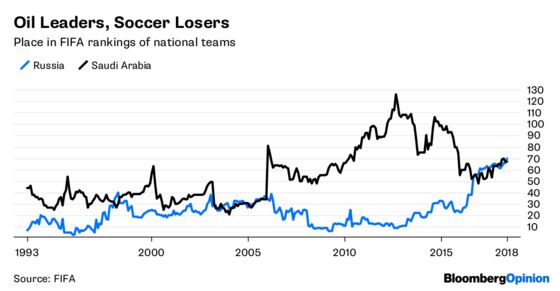 This is surprising given the relative strengths of both countries' clubs. The top transfer fee paid by a Russian club in the 2017/2018 season was 23 million euros ($27.2 million), while the most a Saudi club paid was 4.5 million pounds ($6 million). The Russian league's players have a much higher combined market value than the Saudi Arabian league's.
But it's fitting, in a way,  that Russia and Saudi Arabia are so close in rank. When it comes to soccer, they suffer from similar problems. In Saudi Arabia, the clubs are semi-state entities, run and funded by various princes – not for profit but as vanity projects. This has at times resulted in lapsing player contracts and international fines for Saudi clubs. In Russia, the clubs are often also run for vanity – by state companies, oligarchs and local governors, which has made their fortunes equally unsteady. 
Both countries would like a better system, and Russia is arguably at a more advanced stage of improvement. Saudi Arabia is only just planning the privatization of its soccer clubs. Deloitte did the feasibility study, and the country plans to raise up to $1.5 billion from the sell-off. Afterwards, clubs will be expected to strive for profitability.
Russian clubs are technically private, and only 13.8 percent of their revenues in 2016 (the latest year for which data are available) come from direct grants, down from 33.9 percent in 2012. The clubs are getting better at developing commercial revenue sources, even though much of their sponsorship revenue – 44 percent of the total – amounts to thinly veiled grants.
In both countries, clubs are heavily dependent on foreign players. Saudi Arabia allows up to seven of them in a game. Russia used to allow seven foreigners too, but the number was cut down to six after the national team's disastrous showing in the 2014 World Cup. That made little sense, though: Russian players, guaranteed starting spots because of the foreigner limit, have little incentive to compete and improve. Since the number of foreigners allowed to play for clubs was reduced, the national team has slid considerably in the rankings.
Another reason for that may be Russia's decision to stop headhunting top foreign coaches for the national squad. After Italian Fabio Capello, at one point the world's most expensive national team coach, failed to get anywhere with the Russian team at the 2014 World Cup, Russia went with homegrown talent. But Leonid Slutsky failed miserably at the last European championship and Stanislav Cherchesov appears about to repeat the debacle at the World Cup after a string of disappointing performances in test games.
Saudi Arabia, by contrast, has stuck with foreigners, but has reshuffled them so impatiently that it hasn't been easy for any of them to make an impact. The current manager, Spaniard Juan Antonio Pizzi, was only appointed last November, the third man to get the job in as many months. After the Saudi team qualified for the World Cup, the country's soccer federation had a falling-out with Dutchman Bert van Marwijk, who had built the winning team, over a new contact, so he left. Jan Van Winckel, who served as the federation's technical director, left with him – and it was Van Winckel who oversaw the Saudis' effort to overhaul the entire grassroots system in national soccer, who had doubled the number of registered players in Saudi Arabia and worked on greatly increasing the number of coaches.
Another difference between the Russian and Saudi approaches to soccer is that while Crown Prince Mohammed bin Salman is keenly interested in developing the sport and the national team (in part, perhaps, out of jealousy for regional rival Qatar's successful soccer self-promotion), President Vladimir Putin, a hockey player, has never shown much interest in the team. The president and the crown prince will sit next to each other at the opening game, but for Putin, it's just an opportunity to discuss oil production increases and Syria.
All the differences, however, are just variations on the same theme: an authoritarian nation with money to throw at problems, an impatience to achieve results, a weak sports business culture and a lack of commitment to a long-term plan to develop young players and strong local coaches. Both Russia and Saudi Arabia have tried different half-hearted reforms, but it's no coincidence that the two major oil economies field the two lowest-ranking teams in the tournament. Soccer brilliance and resource authoritarianism in its 21st-century form don't go together.