Rural Stocks Struggle on Covid, Rain Woe in India Hinterland
(Bloomberg) -- Stocks of Indian companies that earn a large chunk of their revenues from the nation's hinterland are facing the brunt of the coronavirus pandemic as a lack of health-care facilities and delayed advance of the monsoon hits consumption in rural areas.
Micro lenders, motorcycle manufacturers and makers of fast-moving consumer goods, which earn a sizable portion of their revenue from the rural regions, have fared poorly this year in comparison with stocks focused on urban consumption, Bloomberg Intelligence's strategists Gaurav Patankar and Nitin Chanduka wrote in a note. Fertilizer suppliers and tractor makers are also likely to struggle during the current wave of Covid-19 in the country, according to the note.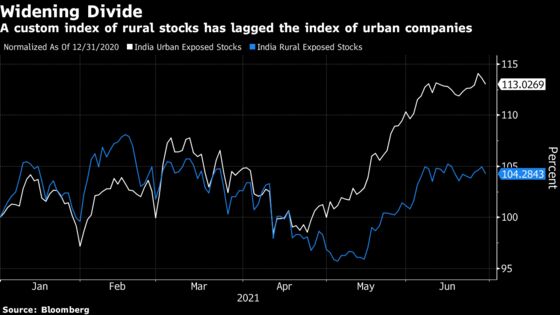 The economic recovery in rural India is closely linked to the performance of the agricultural sector and is key to deciding the fortunes of the companies that are levered toward consumption outside of India's cities. A delay in the monsoon rains is adding to the woes of the region already hit by a lack of awareness about the spread of the coronavirus and the tepid pace of vaccinations.
The advance of the southwest monsoon, which waters more than half the country's farmland, has stalled for the past few days and will be delayed into parts of India's northern region that includes Haryana and Punjab, prominent food-grain grower states.
"Last year, rural stocks led the way on a swifter economic recovery, fewer infections and government support, which may not be the case this time," according to the strategists, adding the stocks dependent on the region have trailed their urban-focused peers by 10 percentage points this year. "We expect the trend to persist amid a slower pace of economic recovery and vaccinations."