Ruble Jumps as U.S. Makes 'Common Sense' Move on Rusal Sanctions
(Bloomberg) -- Ruble traders got some cheer on a down day for emerging-market currencies as a jump in oil prices coincided with a rare piece of positive sanctions news.
The currency of the world's biggest energy exporter gained as much as 1 percent, the most in almost a month, after the U.S. Treasury extended a deadline for Russian billionaire Oleg Deripaska to give up control of United Co. Rusal before penalties kick in.
The ruble slumped last week and leveraged funds raised their net short positions on the currency to a record as noise around a fresh batch of U.S. sanctions picked up again in Washington following the midterm elections. While proposals being discussed in Congress suggest lawmakers intend to come down hard on Russia in response to alleged election meddling, the leniency being showed to Rusal may suggest a softer approach.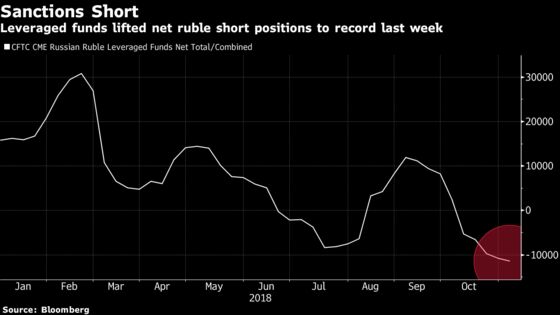 "The Rusal deadline extension has been seen by the markets as rebirth of common sense by the U.S. authorities," said Vladimir Miklashevsky, a strategist at Danske Bank A/S in Helsinki.
Crude prices rallied after a five-week slide as OPEC and its allies started laying the groundwork for curbing oil supply next year. The Russian currency has become increasingly disconnected with oil prices this year as sanctions concerns grab investor attention.
"The ruble was lagging other emerging-market currencies last week and now is partly catching up on oil-price recovery," strategists at VTB Capital, led by Maxim Korovin, wrote.