Russian Assets Retreat as Ukraine Clash Revives Sanctions Risk
(Bloomberg) -- The ruble and Russian stocks slid the most in emerging markets and borrowing costs jumped as a flare-up in tensions with Ukraine rekindled concerns about fresh sanctions against the Kremlin.
The clash between Russian and Ukrainian warships near Crimea on Sunday came just as the ruble was beginning to stabilize on reports that proposed U.S. penalties could be pushed back. If the tensions continue, the Finance Ministry may be forced to cancel its weekly bond auction on Wednesday, according to analysts at Credit Suisse Group AG.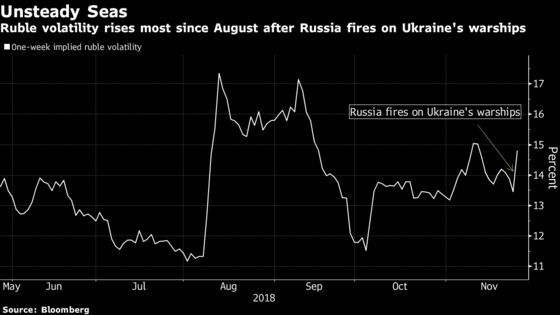 Others said the sell-off may be short-lived if the tensions don't escalate or if it doesn't look like they'll result in hard-hitting sanctions. Investors will be seeking clues about the potential fallout at a United Nations Security Council meeting later today and the Group of 20 summit in Buenos Aires next week.
It's "reasonable to assume that the Kremlin may use the same tactic as in the case of the Crimea crisis and will stir up tensions with Ukraine to divert attention from domestic problems," Piotr Matys, an analyst at Rabobank said in a research note. The "resurfacing of geopolitical risk," combined with a recent slump in oil prices, creates a negative bias for the ruble, he said.
Ukraine's parliament will vote on whether to impose martial law after Russia fired on its warships in the Kerch Strait, a key waterway for sea traffic from both countries. The European Union and NATO called on both sides to exercise restraint and demanded Russia ensure free navigation.
The ruble weakened as much as 1.7 percent against the dollar on a day of strong gains for most emerging-market currencies. Analysts at Nomura Holdings Inc. said the drop could extend further, erasing recent gains that were spurred by bets that harsh U.S. sanctions will be delayed.
The yield on local-currency bonds due 2028 rose 12 basis points to 8.92 percent, the highest in about two weeks on a closing basis. The cost of insuring Russian debt against default through credit-default swaps headed for the highest level since September.
Read More: Russia-Ukraine Splash Fight Distracts vs End-2018 Ruble Events
A clash between Russia and Ukraine is an "additional factor of instability" for local markets, according to analysts at Societe Generale SA's local unit in Moscow. While the currency normally gets a boost at the end of the month as companies buy rubles to make local-currency tax payments, the fresh tensions may eclipse the support, they said.
"It's not clear yet what the reaction will be from the countries who are responsible for sanctions," said Alexey Pogorelov, an analyst at Credit Suisse in London.