Rubber Bulls Look Past Virus Panic to Looming Supply Deficit
(Bloomberg) -- Rubber bulls are training their sights beyond the recent slump in prices due to the rapidly spreading coronavirus and instead betting that tighter supplies will help prices rebound from a three-month low.
The worst drought in four decades in Thailand, the world's biggest rubber producer and exporter, and a leaf disease ravaging plantations in some countries including Indonesia and Malaysia could cut supply further this year, according to industry experts. Some major producers have also been trying to limit acreage, cut exports and boost local use.
There will be a shortage of natural rubber in the coming years, said Robert Meyer, chief executive officer of Singapore-based Halcyon Agri Corp Ltd. The recent price slump wasn't in line with a tighter market and an expected surge of about 25% in demand for gloves, he added. Singapore futures may rise to $1.35-$1.50 per kilogram in the first quarter, and to $1.65-$1.70 in the April-June period, from $1.29 now, Meyer said.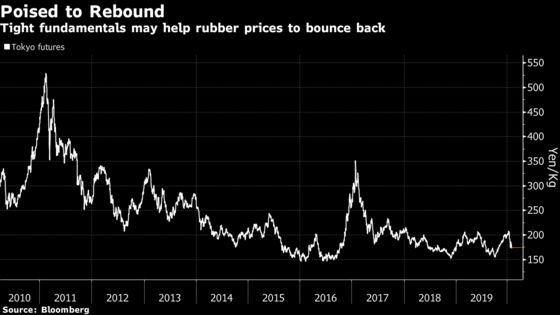 Surging demand for rubber gloves could further improve sentiment. Thailand's Sri Trang Agro-Industry Pcl, the world's top rubber producer, and glove makers in Malaysia are ramping up output to meet spiking demand in China as the nation fights the virus outbreak.
There are a lot of positive factors this year, said Nakorn Takkavirapat, deputy governor of the state-owned Rubber Authority of Thailand. "Leaf diseases and drought will continue to sap supply in Thailand and in major producing countries."
The market's fundamentals are expected to take a sharp turn. Futures have plummeted about 70% from their peak in 2011, partly due to a flood of supplies as lofty prices about nine years ago prompted farmers to plant more. But the situation is expected to change.
The pace of new plantings and re-plantings have drastically fallen, Meyer said.
The most-active rubber contract in Tokyo posted its biggest monthly loss in almost three years in January on concern that the virus will hurt China's economy and curb demand for the commodity, mainly used in tires.
The outlook for China's natural rubber demand is likely to be scaled down due to the potential negative impact on the economy from the epidemic, according to the Association of Natural Rubber Producing Countries. Still, the outbreak has generated additional demand for hygiene products like rubber gloves, it said.
However, changing fundamentals may also bring misery to small farmers.
"The drought and disease could make this year and the next very difficult for us," said Manus Boonpat, leader of the Rubber Tappers and Smallholders Association in Thailand. The number of farmers planting rubber will fall if prices continue to remain low, he said.