Royal Mail Labor Troubles Put Long-Term Targets in Jeopardy
Royal Mail Plc said a five-year plan to stabilize its shaky letter-carrying business and expand in parcels has been thrown into jeopardy by labor trouble and a still-uncertain British economy.
Shares of the company, which traces its history back more than 500 years, fell 11% Thursday after it warned that the main U.K. delivery business may lose money in the year starting in March, as a union battle that marred the Christmas and New Year holiday season drags on.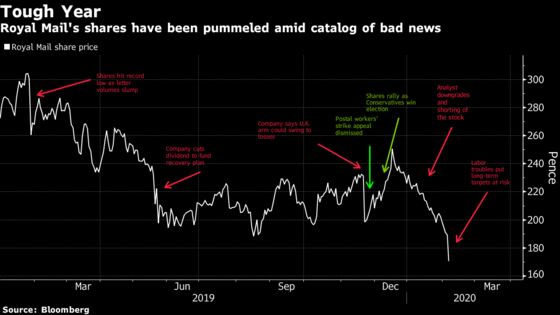 While parcel demand for the Black Friday and Cyber Monday retail peaks was higher than expected, the threat of industrial action caused customers to divert holiday packages to other companies, Royal Mail said in a statement. The continuing slump in letter volumes was also sharper than anticipated.
Chief Executive Officer Rico Back said targets set in the group's so-called Journey 2024 transformation will be "compromised" unless there's progress in securing productivity improvements in talks with the Communication Workers Union. He said additional mitigating actions are being taken, with details to be provided with the group's full-year results in May.
"There is little to like," Bernstein analyst Daniel Roeska said in a note, adding that Royal Mail is in a "tough spot" and may need to sacrifice divided payments if it wants to press on with the transformation plan.
The stock traded 9% lower at 172 pence as of 8:11 a.m. in London, meaning the London-based company has lost almost a quarter of its value so far in 2020.