Royal Mail Sinks Below 2013 IPO Price Lambasted as Too Cheap
(Bloomberg) -- Royal Mail Plc broke below its initial public offering price to mark a significant political moment five years after a share sale that British lawmakers said shortchanged the public.
The stock fell as much as 4.9 percent to touch a record-low 321.8 pence in early London trading, below the 330 pence at which the 500-year-old postal service was sold in October 2013 under then-Chancellor of the Exchequer George Osborne. Analysts at RBC Capital Markets and HSBC Holdings Plc cut recommendations on the stock earlier Tuesday following the London-based postal operator's profit warning a week ago.
Royal Mail, which recovered later in the morning to trade up 1 percent as of 9:15 a.m., has fallen 28 percent since saying in an unscheduled business update that its plans to counteract rising labor costs through efficiency measures are running significantly behind schedule.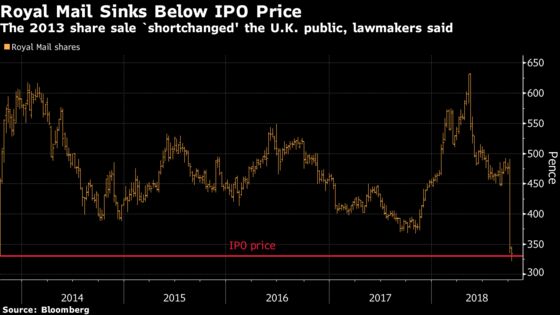 Spending on staffing has risen under pressure from unions amid a backdrop of shrinking letter volumes due to a continued shift toward online communication. The mail-handling decline has been exacerbated in recent months by a clampdown on unwanted marketing items under the EU's General Data Protection Regulation.
Even after last week's plunge, Royal Mail's shares still don't fully reflect the "amplified" profit risks posed by higher-than-expected costs, RBC analysts including Damian Brewer wrote in a report to clients.
The postal service "will need to work even harder just to catch up," and any price increases aimed at boosting margins might risk hurting demand too much, they added, downgrading the stock to underperform from sector perform.
HSBC analyst Edward Stanford, who cut his recommendation to hold from buy, said the "most disturbing" aspect of the profit warning was that management reported virtually no improvement in productivity during the fiscal first half, which ended Sept. 23.
One of the root causes of Royal Mail's missed cost-savings target appears to be poor employee morale in the wake of "bruising" negotiations between the company and union members, Stanford said.
U.K. taxpayers missed out on "significant value" in the 2013 share sale, an all-party parliamentary panel said in 2014. The advice that the government received on the IPO wasn't "up to standard," with Lazard Ltd., the financial adviser, and global coordinators UBS Group AG and Goldman Sachs Group Inc. failing to gauge demand adequately, the panel said.
The U.K. government offloaded its last remaining holding for 455 pence a share in October 2015, about 40 percent higher than Tuesday's record low.