Royal Caribbean Bets on Luxury With Silversea Stake
(Bloomberg) -- If you have a quarter of a million dollars to spare, Royal Caribbean Cruises Ltd. will soon have a vacation for you.
The Miami-based cruise operator agreed to buy a 66.7 percent stake in closely held Silversea Cruises Ltd. based on an enterprise value of about $2 billion. The purchase price of the equity being acquired is approximately $1 billion. The deal will give the company new luxury offerings, including a stay in the Owner's Suite that starts at $240,000 per person for Silversea's World Cruise 2020, a 140-day trip around the globe.
Royal Caribbean is targeting the ultra-rich with its purchase of a majority stake in the luxury cruise brand. Silversea's trips range from $5,000 per person for a 10-day Mediterranean trip to the epic -- and wallet-busting -- World Cruise. The partnership is expected to have "significant" synergies, including global market access, supply chain and purchasing power, according to Royal Caribbean Chief Financial Officer Jason Liberty.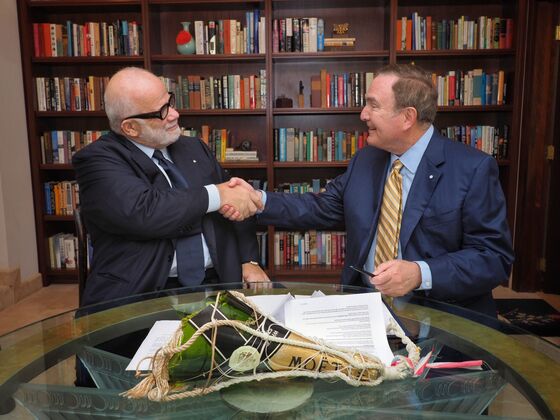 It's "a good extension into an area that, frankly, we haven't been active in," Royal Caribbean Chief Executive Officer Richard Fain said in a phone interview. Silversea has an "unparalleled" reputation and a "simpatico culture," he said.
The deal will be financed through debt and the company's leverage ratio will "elevate a little bit," according to Liberty. The company expects to keep its investment grade rating and target ratio of 3 percent to 3.5 percent. Silversea Chairman Manfredi Lefebvre D'Ovidio will qualify for milestone stock awards of about 472,000 Royal Caribbean shares if the combined company reaches performance targets in 2019-2020. The transaction is expected to close later this year and isn't expected to have a material effect on near-term adjusted earnings.
Perella Weinberg Partners LP served as financial adviser to Royal Caribbean and Barclays Plc served as financial adviser to Lefebvre.
Royal Caribbean has enjoyed a strong second quarter so far, according to Fain. Strong close-in demand for core products and better-than-expected performance "below the line," including joint ventures, drove improved results. Onboard spending also continues to be strong, reflecting people's desire to have experiences on their trip, Fain said.
The results will "completely offset" a strengthening dollar and higher fuel prices, which are expected to result in approximately a 25-cent per-share headwind in the second half of the year. The company reiterated its 2018 forecast for adjusted earnings of $8.70 to $8.90 per share, compared to the average analyst estimate of $8.83. The forecast doesn't include the Silversea deal.
Royal Caribbean shares rose as much as 7 percent, their best intraday gain since April of last year. Year-to-date, Royal shares have declined 4.9 percent versus a 3.2 percent drop for peer Carnival Corp.