Royal Bank Profit Trails Estimates as Rates Pressure Margins
(Bloomberg) -- Royal Bank of Canada is feeling the pinch of low interest rates pressuring profit margins as well as higher costs to pay bankers amid a strong stretch for capital markets.
The bank's net interest margin -- the difference between what it earns on loans versus what it pays depositors -- narrowed to 1.43% in the fiscal fourth quarter from 1.51% in the third quarter, the Toronto-based lender said in a statement Wednesday. Analysts had projected a margin of 1.51%. Overall profit trailed estimates. 
"The yield curve flattened a little bit, and that has hurt their margins," Paul Gulberg, an analyst at Bloomberg Intelligence, said in an interview. "Most people were expecting stable margins for the banks in general this quarter."
Royal Bank shares rose 0.1% to C$126.43 at 9:41 a.m. in Toronto, trailing the 1.2% gain in the S&P/TSX Commercial Banks Index. The stock has risen 21% this year, compared with a 27% advance for the banks index.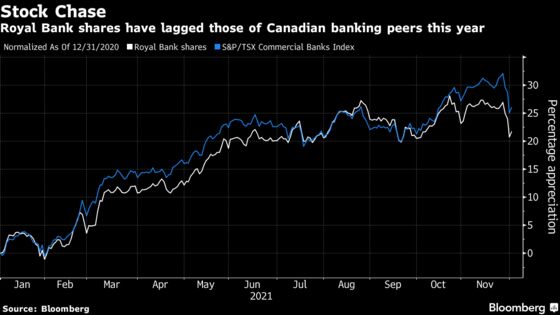 Chief Financial Officer Nadine Ahn said on Royal Bank's earnings call that the lender expects margins in both Canadian banking and its City National U.S. private and commercial bank to stabilize around current levels, with a chance of expansion as central banks raise interest rates.
"While City National's interest-rate sensitivity is largely driven by an increase in short-term rates, Canadian banking would benefit more from a broader across-the-curve increase," she said.
At the same time, Royal Bank is facing higher costs to pay bankers, who helped produce surging capital-markets revenue this year. Total non-interest expenses for the bank rose 8.7% from a year earlier to C$6.58 billion ($5.16 billion). Analysts had estimated C$6.49 billion. 
National Bank of Canada, the country's sixth-largest bank by assets, also reported profit that trailed analysts' estimates, hurt by narrower margins. National Bank's net interest margin in its personal and commercial banking division narrowed to 2.06% in the fourth quarter from 2.11% in the third. Adjusted profit of C$2.21 trailed analysts' C$2.24 estimate. The shares fell 2% to C$97.29. 
Royal Bank raised its quarterly dividend 11% to C$1.20 a share and announced a plan to buy back 45 million shares, which at current prices would cost about C$5.68 billion. Canada's banking regulator said last month that banks and insurers could resume increasing their payouts and repurchasing shares, ending a temporary ban put in place at the start of the pandemic to protect the financial system. 
Profit in the capital-markets division rose 9.5% from a year earlier to C$920 million, helped by a gain in corporate- and investment-banking revenue.
"We had very strong activity on the investment-banking side, both in M&A and in loan syndications," Derek Neldner, head of the capital-markets division, said on the earnings call. "We see that level of activity continuing, and our pipeline heading into next year continues to feel very healthy."
Also in the Royal Bank statement:
Net income rose 20% to C$3.89 billion, or C$2.68 a share, in the three months through October. Excluding some items, profit was C$2.71 a share. Analysts estimated adjusted profit of C$2.81, on average.
The bank released C$227 million in provisions for credit losses. Analysts projected C$4.2 million in provisions.