Royal Bank of Scotland Sets Aside $1 Billion For Bad Loans
Royal Bank of Scotland Group Plc is the latest bank to book a hefty charge as the coronavirus pandemic hits borrowers' health and finances.
The bank set aside 802 million pounds ($1 billion) for soured loans, almost 10 times the charge it booked a year ago. RBS's rivals Barclays Plc and Lloyds Banking Group Plc booked bigger impairments this week as the industry braces for a surge in struggling borrowers.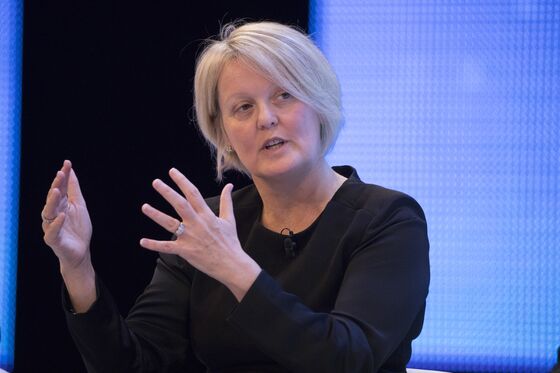 "Although the outlook remains extremely uncertain, we approach the crisis from a position of strength, with confidence in our balance sheet and focus on our strategic priorities." Chief Executive Officer Alison Rose said in a statement on Friday.
Its shares rose as much as 4.9% in early London trading, reversing some of the losses it sustained after rival Lloyds scrapped its targets on Thursday.
RBS said "it would be inappropriate to provide an update on medium term outlook at this time." British banks have made wide-ranging provisions for the uncertainty posed by the pandemic, which has left the U.K. on lockdown since March 23. Lloyds said this week that its 1.4 billion-pound charge was "front-loaded," and that it could take further impairments this year if more borrowers begin to falter.
For the first quarter, though, RBS beat forecasts with an operating profit before tax of 519 million pounds. Its performance relies heavily on British consumers and businesses, leaving it more vulnerable to economic headwinds than rivals such as Barclays and Standard Chartered Plc, which have enjoyed a boost from their financial-markets businesses.
Only a fraction of the bank's personal loan book is unsecured, CEO Rose said on a call, enabling it to take lower provisions for defaults than competitors with larger credit card exposures. RBS's 79 billion-pound corporate loan book includes 9.4 billion pounds of debt held by the leisure sector and a similar sum tied to retail, both of which have been hit hard by the lockdown.
The government's Office for Budget Responsibility is forecasting a contraction of 35% in the second quarter, although the full effects of the pandemic are still unclear.
RBS is the biggest participant in the U.K. government's Coronavirus Business Interruption Loan Scheme, lending 1.4 billion pounds, and has offered mortgage payment holidays to 190,000 borrowers who are struggling during the outbreak. Rose said despite the widespread state support, "inevitably not every business is going to survive."
The bank also said it will close its digital retail bank Bó and instead focus on Mettle, its online platform that until now was dedicated to small and medium enterprises. Mark Bailie, who founded Bó, left the group earlier this year.