Rosneft Profit Suffers From Pipeline Incident, Weaker Oil
Rosneft PJSC's second-quarter net income fell as the Russian giant suffered the effects of weaker oil prices and production cuts, but the decline was less severe than analysts expected.
While the results show the impact on Rosneft of the Druzhba crisis, in which millions of barrels of exports to central Europe via the Soviet-era pipeline were contaminated with chemicals, shares rose as investors eyed the company's pledged payout.
"Rosneft shares are growing on the dividend recommendation for the first half of the year, which turned out higher than expected," Angelina Glazova, an oil and gas analyst at Atonline Ltd., said by phone. The dividend size was supported by the company's robust net income, she added.
Rosneft's shares increased as much as 2.2% to nearly 417 rubles ($6.30) after the results were published and were trading at 413.65 rubles as of 12:02 a.m. Moscow time, the highest level since August 5.
Rosneft usually pays about 50% of its net income in dividends, means that higher than expected profit creates higher returns for shareholders. The company's board recommended an interim dividend of 15.34 rubles per share, based on results of the first half of the year, it said in a statement.
The company reported second-quarter net income of 194 billion rubles, about 15% lower than a year earlier, but still above the highest analyst estimate. Revenue increased slightly to 2.135 trillion rubles, beating the Bloomberg consensus.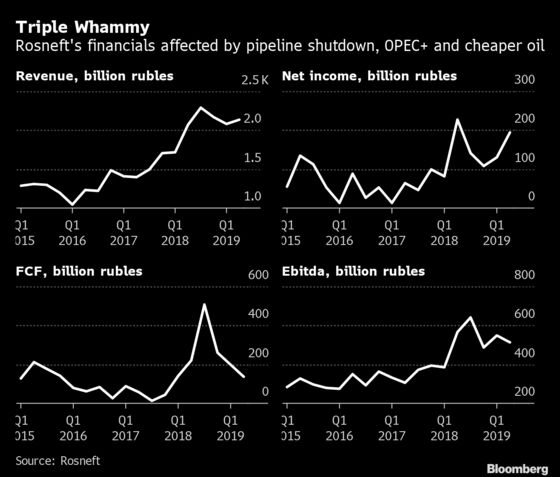 The financial performance of Russia's largest oil producer was generally weaker than in 2018 amid lower oil prices and production cuts. However, its profit beat analyst estimates due to one-off incidents, Ildar Davletshin, a London-based energy analyst at Wood & Co., said by phone.
"Rosneft's net income received support from non-operational factors, including a lower income tax rate and interest payments," he said. "Operational results, like EBITDA, were largely in line with expectations."
The Russian crude producer suffered the greatest damage to its financial results from the Druzhba crisis. Rosneft pumped 4.62 million barrels of oil a day in the second quarter of 2019, down 2.7% from the preceding one due to the pipeline incident and output cuts agreed with the Organization of Petroleum Exporting Countries.
Russia's oil flows to Europe via Druzhba were first interrupted in April as European clients refused to take affected barrels. The clean-up lasted into July and for Rosneft the shutdowns were exacerbated by a spat with pipeline operator Transneft PJSC.
"The influence of external one-offs should be noted, which limited the capacity to grow production in 2Q 2019," Chief Executive Officer Igor Sechin said in a statement.