Long Line of Soy Ships Sets the Scene for Trump, Xi Dinner Date
(Bloomberg) -- A long line-up of ships waiting to unload soybeans in Argentina offers a stark reminder of what's at stake for the oilseed market when Donald Trump and Xi Jinping meet in the country later this week.
The South American country is the biggest exporter of soybean meal but hasn't been a big importer of U.S. oilseed -- until now. Tit-for-tat tariffs mean China is snubbing American-grown beans, which are being rerouted to Argentina partly because a drought crimped domestic supplies.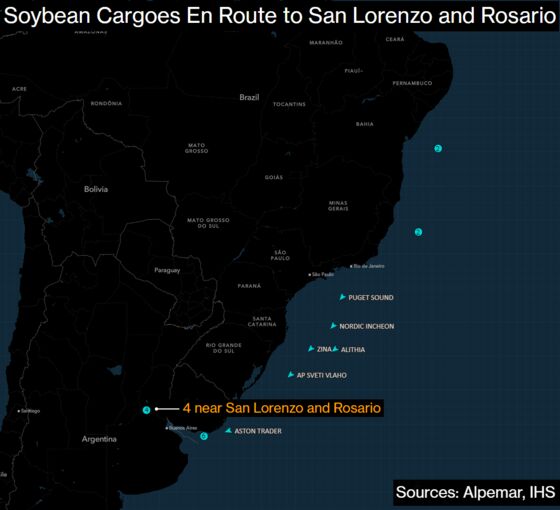 There are 19 vessels en route or lined up to unload American soybeans in Argentina's San Lorenzo and Rosario ports, shipping agency data show. There were no U.S. bean cargoes to Argentina last year.
"There are no problems at all, just a waiting line due to the enormous and unusual amount of soybeans being imported," Guillermo Wade, manager of port and maritime chamber CAPyM, said from Rosario.
About 170 miles (270 kilometers) away in Buenos Aires, Trump and Xi are scheduled to dine together Saturday evening as part of the Group of 20 summit. Failure to progress in the trade talks may mean Argentine ports will have to get used to those long lines of American bean cargoes.