Solar Giant Sunrun Surges on Deal to Become a Juggernaut
(Bloomberg) -- Sunrun Inc., America's biggest rooftop-solar company, is set to become a behemoth through a $1.46 billion takeover of its rival Vivint Solar Inc. Shares of both companies surged.
The agreement announced late Monday is one of the industry's biggest. It comes after Tesla Inc.'s 2016 purchase of debt-plagued SolarCity Corp. and the failed 2015 acquisition of Vivint by SunEdison Inc., the clean-energy giant that went bankrupt soon after.
The second major U.S. energy deal in as many days -- following Berkshire Hathaway Inc.'s $4 billion purchase of Dominion Energy Inc. assets -- also threatens to further weaken Tesla's grip on the rooftop-solar market and could inspire more sector consolidation. Sunrun and Vivint combined provide about 75% of new residential solar leases each quarter, according to BloombergNEF.
"Sunrun will be freaking big," Joe Osha, an analyst at JMP Securities, said in an interview. "They are clearly looking for ways to get scale and efficiency."
Sunrun shares rose 25% at 12:07 p.m. in New York. Vivint climbed 37%.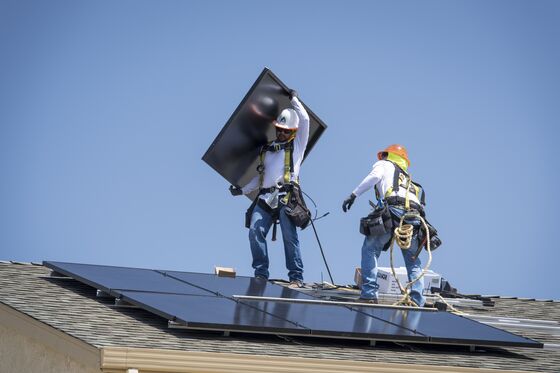 The deal, subject to approvals, values Blackstone Group Inc.-backed Vivint at $3.2 billion including debt. It comes as America's rooftop-solar industry works its way back from the worst of the coronavirus pandemic. Door-to-door sales -- a key marketing strategy for installers -- practically ceased as states imposed lockdowns, while installations were slowed or canceled.
"Now was a perfect time because we have been through the Covid test," Sunrun Chief Executive Officer Lynn Jurich said on a conference call Tuesday.
When asked if the company had concern that regulators could raise antitrust issues related to the deal, Sunrun Executive Chairman Ed Fenster said on the call that he's confident it's going to be viewed as "positive for consumers." He added that there are more than 10,000 solar companies in the U.S., and that the residential-solar industry represents about 2% of electricity generation.
Sunrun has been America's largest rooftop-solar company for more than two years, edging aside Tesla, which had inherited the throne from longtime king SolarCity. Tesla's market share has shrunk since the acquisition amid strategic shifts and competition from rooftop rivals including Sunnova Energy International Inc. and SunPower Corp.
Like most rooftop solar companies, Sunrun relies on project finance to help fuel growth, and Fenster said the deal will help the company raise capital more efficiently. Sunrun also said the merger would enable it to consolidate field-operation locations between the companies to save on rent and overhead expenses.
After taking a hit during the pandemic, there's evidence rooftop solar may be rebounding. Investor enthusiasm for the sector has surged after March lows, companies have lined up financings in recent weeks, and there have been efforts to ramp up the digitization of operations.
Amid the pandemic, rooftop solar "could be an industry that picks up faster than others," Hugh Bromley, an analyst at BNEF, said in an interview. "People are staying home thinking about renovations and they're seeing their power bills increase while they're running the air conditioner around the clock."
New leases and power-purchase agreements represented about 27% of American residential-solar systems prior to the pandemic. Marketing is usually the biggest expense for American installers, and the companies said in a statement Monday that the deal will create $90 million in annual "cost synergies."
The acquisition, which is expected to close in the fourth quarter, is an all-stock transaction, under which each share of Vivint will be exchanged for 0.55 shares of Sunrun. The combined company would have an enterprise value of $9.2 billion, they said Monday.