Romanian Economic Slowdown Exceeds Estimates as Stimulus Fades
(Bloomberg) -- Romania's economic growth slowed more than estimated as the euro area falloff and a controversial new bank tax hit markets and investment.
It was the first release of gross domestic product data from central and eastern Europe that is expected to reflect a shift to a lower gear across the region. Romania's economy grew 4.1 percent in the fourth quarter of last year. That's less that the 4.4 percent median estimate in a Bloomberg survey. Hungary, Poland and Bulgaria will release GDP data later on Thursday. Romanian GDP grew 0.7 percent compared to the previous quarter.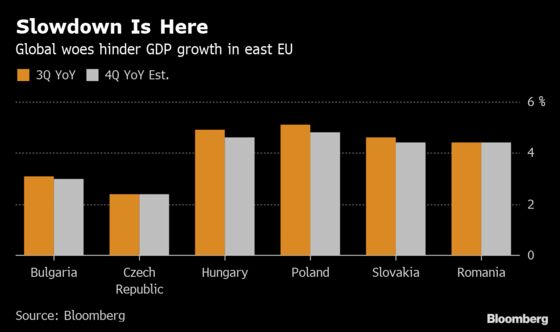 Companies in the banking and energy sectors are putting investments on hold in Romania because of the disputed "greed tax" currently under review for potential changes.
A multibillion-dollar gas project of OMV Petrom and Exxon Mobil Corp in the Black Sea is currently in limbo because of uncertainty around the tax.
The talks and slower inflation prompted the Romanian central bank to hold its key rate steady at 2.5 percent last week and slightly raise its inflation outlook for this year.
"With consumers running out of confidence and recent fiscal changes yet to feed through into the economy, including potential downside risks to assets prices which could worsen consumers' morale via the wealth effect, the economy looks set for a further slowdown in 2019," Ciprian Dascalu, a Bucharest-based economist at ING Groep NV, said in a note before the data were released.
ECB Rebukes Romania Over 'Greed Tax' for Failing to Consult It
Rage From Central Bank Pushes Romania to Mull 'Greed Tax' Change