Rolls-Royce Says It's 'Far Short' of Engines for Airbus Jet
(Bloomberg) -- Rolls-Royce Holdings Plc is running into production hurdles on the engine for Airbus SE's new A330neo jet, just as the European planemaker rushes to meet delivery targets this year.
Only 10 Rolls-Royce Trent 7000 engines will have been delivered by the end of October, the London-based manufacturer said in a letter to employees describing "technical and operational challenges." The output is "far short" of the 30 engines promised so Airbus can hand over 15 of the wide-body planes to airlines by year-end, according to the memo.
"We have caused Airbus a significant problem, and we are working with them to manage the situation with airline customers and lessors," the memo said.
In an exchange statement Friday following Bloomberg's story, Rolls-Royce said it cut its engines delivery target -- for all types of large commercial aircraft turbines -- by 50 to a total of about 500 for this year, adding that "such issues in the early stages of a new engine program are not uncommon in our industry." The company reiterated its profit and cash-flow targets.
"As we move into 2019 we are confident that Trent 7000 production and delivery volumes will increase significantly to meet our customer commitments," Rolls-Royce said.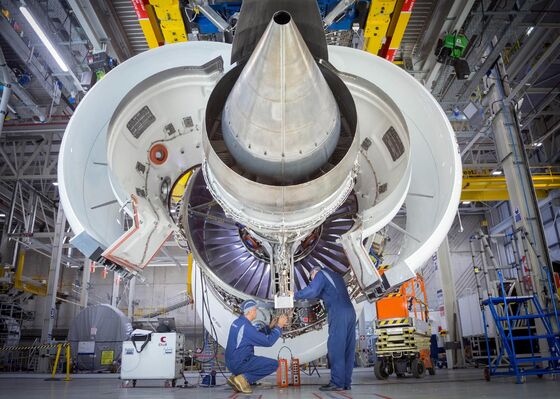 The factory stumbles threaten to pile new pressure on Rolls-Royce, which is already struggling with design faults on the engine's sister model, the Trent 1000, which powers Boeing Co.'s 787 Dreamliner. The A330neo is expected to debut in the coming weeks, about a year behind its initial schedule.
Disruption caused by design faults on the 787's engine is "a source of anxiety to our customers and we must not exacerbate this by missing commitments to our Trent 7000 customers," Rolls said in the letter, sent Thursday and signed by President of Civil Aerospace Chris Cholerton and Chris Young, director of large engine programs.
The production glitches add to a frustrating series of setbacks for Chief Executive Officer Warren East, who is trying hard to turn around one of Britain's few remaining industrial juggernauts. In his four years at the helm, East has worked to rebuild the engineering firm from the bottom up, shedding management layers, peripheral units and outdated business practices. Those efforts have been held back by issues with the Trent 1000 that came to light in 2016, and now with the Trent 7000, which was designed as an upgrade.
Rolls shares fell as much as 14 percent, the biggest intraday drop in three years. The stock was down 4.1 percent at 836.40 pence as of 1:29 p.m. in London, wiping out gains this year that followed a wide-ranging restructuring plan and two business disposals. Airbus declined as much as 6.6 percent and was trading down 2.4 percent in Paris.
"We would extrapolate that the financial impact on Rolls will be compensation payments to Airbus and the airlines, and a build-up of inventory into the year-end," Robert Stallard, an analyst with Vertical Research Partners, said in a note, while cutting his price target on Rolls by 11 percent to 930 pence. "The profit-and-loss impact could ironically be positive, as the Trent 7000 original-equipment deliveries will be loss making, with the returns coming from the aftermarket."
For Airbus, the delays with the A330neo threaten to disrupt the Toulouse, France-based company's effort to produce a record number of aircraft in the final quarter of 2018. It has set a goal of delivering about 800 planes this year, but is already playing catchup after issues with unrelated engines and interiors for its single-aisle workhorse, the A320 family of jets.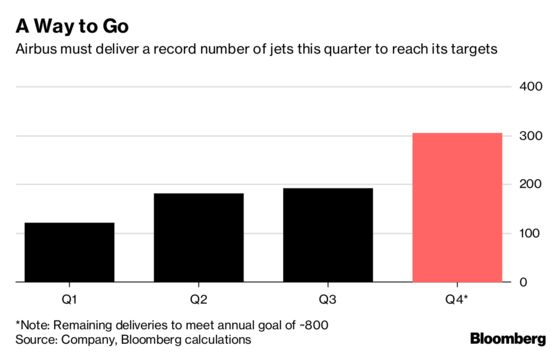 Airbus declined to comment ahead of third-quarter results scheduled for Oct. 31.
Late deliveries on the Trent 7000 are "causing both customer impact and a financial headwind for us this year," according to the letter. The London-based engine-maker risks penalties when it misses contractual deadlines for delivering new engines. If airlines need to lease-in aircraft, the company may be required to cover that cost as well.
Icelandic discounter WOW Air said earlier this month that it would take its two A330neos on order in February instead of November because of delays. The carrier said it would cancel several routes through April as a result.
"Our priority has always been to ensure that this engine meets customer expectations on entry into service and we have seen very good performance attributes during a rigorous testing phase," Rolls-Royce said in a statement. "We continue to work very closely with Airbus and our customers on the details of the delivery schedule."
Rolls-Royce has already earmarked 1.3 billion pounds ($1.7 billion) in charges through 2022 related to the Trent 1000, as the company develops fixes and airline customers are forced to pull 787s from service for repairs.