Rolls-Royce Faces Dilemma to Bolster Cash After Record Loss
(Bloomberg) -- Rolls-Royce Holdings Plc's biggest-ever loss presents Chief Executive Officer Warren East with some difficult choices to fortify the British manufacturer against the damage done by the coronavirus pandemic.
The shares fell as much as 10% after the jet engine-maker said Thursday that it's planning to raise at least 2 billion pounds ($2.6 billion) from disposals and is considering other options to raise cash.
Rolls-Royce identified Spanish unit ITP Aero as the asset most likely to be sold, though it may take time to find the right buyer and the right price, East warned on a conference call. That leaves the CEO with a choice between diluting existing shareholders and selling assets at a depressed price.
With a 5.4 billion-pound loss weighing down the first half, and cash flowing out of the business for at least another year, East has little time to wait for good offers. The virus has had a brutal impact on maintenance revenue generated by the use of wide-body planes, and the company outlined the potential effects of a worsening crisis. The departure of Chief Financial Officer Stephen Daintith, who is leaving for grocery-delivery firm Ocado Group Plc, will only make the challenge harder.
"The impact of the pandemic on our business has been very dramatic and that's plain to see in the results this morning," East said on a conference call.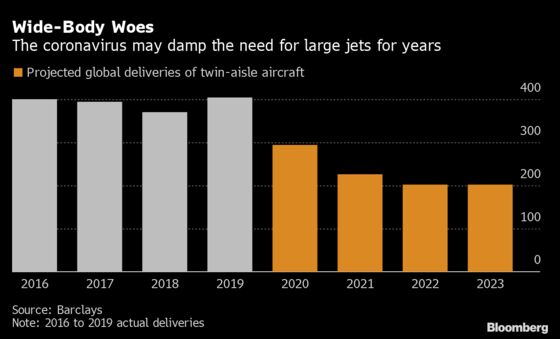 Rolls-Royce traded 7% lower as of 12:10 p.m. in London. The company has a value of 4.6 billion pounds after its stock price fell by two-thirds this year.
Bloomberg reported in July that Rolls-Royce could seek 1.5 billion pounds to 2 billion pounds in an equity offering. However he proceeds, East is facing a situation that could significantly worsen.
The company laid out a "severe but plausible" scenario Thursday which could see a second wave of the virus result in further lockdown restrictions and corresponding step down in engine flying hours. In this case, it would need to raise fresh cash more urgently in order to fund operations and maintain liquidity.
The company said its status as a going concern, while intact, could be threatened based on "the severity, extent and duration" of the pandemic.
"East has faced a torrid time at Rolls Royce, such as the design glitches on the Trent 1000, but managing the current covid crisis will be his biggest challenge yet," said Julie Palmer, partner at restructuring firm Begbies Traynor. The company chief "still has a lot of work to do to make sure that Rolls-Royce can ride out the storm."
The company's balance sheet makes for grim reading. Rolls-Royce recognized a 2.6 billion-pound charge to close out currency hedges no longer needed as it downsizes its commercial aerospace business. A recent drop in the dollar drove up the cost of extricating itself from the trades.
The company said it doesn't see engine flying hours rebounding until beyond 2022.
Highlights:

Underlying revenue fell 24% to £5.6 billion on fewer flying hours
£5.4 billion first-half loss includes:

£2.6 billion from revaluation of currency hedges
£1.1 billion from impairments
£400 million from restructuring costs

Sees cash outflow of £1 billion in second half, £4 billion outflow for all of 2020
Targets return to positive free cash flow in second half of 2021; full year seen negative
Had £6.1 billion liquidity as of June 30 with added £2 billion term loan agreed in second half
Debt maturities of £3.2 billion through end of 2021
East said Thursday he only wants to sell "to the right buyer at the right price," something the pandemic may make more challenging. A share issuance is the alternative, though it would dilute existing shareholders already facing significant losses.
On the conference call, Daintith said returning to the net cash position Rolls-Royce started the year with is vital, along with getting its debt back to investment grade. The CFO, who will stay on for a few months while the company searches for a replacement, said he wouldn't be drawn on any particular option to strengthen the balance sheet.
A 2-billion pound equity raise becomes more immediate in the worst-case scenario, because divesting assets would likely be more difficult, said Sandy Morris, an analyst with Jefferies.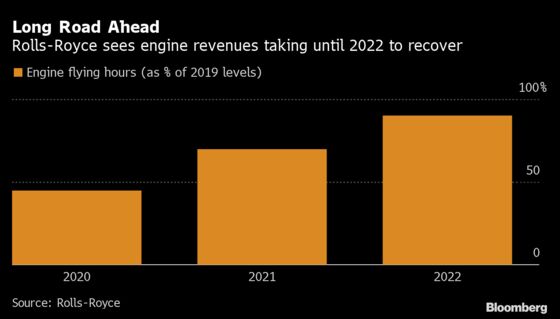 Rolls-Royce is meanwhile closing sites, consolidating work and cutting jobs as it grapples with a slump that's expected to depress demand for wide-body engines for years to come. East, who had already warned that the airliner-engines business could emerge a third smaller, said 4,000 posts have been eliminated so far out of a potential 9,000 that may need to go.
The company announced Wednesday that it would close one U.K. site by the end of 2022 and reduce activities at another as part of its review of its global footprint. It also moved some work between the U.K. and Singapore.
"That's the largest reorganization of civil aerospace in our history," said East. "It's dramatic because Covid-19 is dramatic."