Rogers Faces Earnings Test in Crowded Canadian Wireless Market
(Bloomberg) -- Canada's Big Three telecommunications companies aren't expected to take a hit from Shaw Communications Inc.'s move into mobile offerings when they report second-quarter results, according to analysts.
The telecom stalwarts are attracting an influx of contract wireless customers, following the trend over the past two years as Canada's population rises and consumers jump in on secondary devices and wearables, according to Scotiabank. Rogers Communications Inc. is the first of the largest Canadian telecom companies to release second-quarter earnings, with a report due out before the market opens on Thursday. Bell Canada parent BCE Inc. and Telus Corp. follow in the first week of August.
Freedom Mobile entered the market more than a year ago, after Shaw acquired Wind Mobile; the low-cost alternative has scooped up customers and introduced a new plan in December that offered more data for less money. Shaw's foray into telecom attracted about 210,000 contract wireless customers in a year and is expected to add 40,000 more in the second quarter, Scotiabank analyst Jeff Fan wrote in a note.
Shaw's revenue from wireless services ballooned by 54 percent to C$237 million in its fiscal third quarter, which the company reported in late June.
Yet Freedom's accelerating contract subscriptions won't take market share away from the Big Three, Fan said. He forecasts that an additional 1.58 million new contract customers were up for grabs in the second quarter.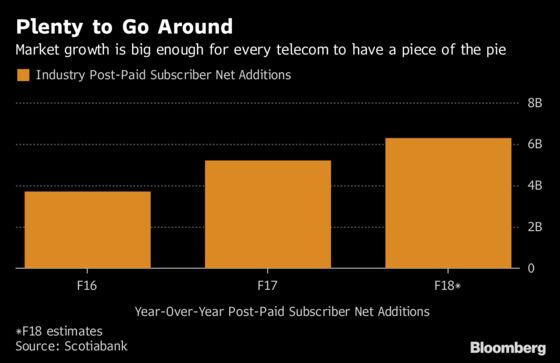 "In Canada, we believe there is enough wireless subscriber growth for all," Fan wrote in a note.
The challenge comes with slowing momentum in average billings per user (ABPU), the monthly revenue earned from each wireless customer, Fan said in his report. While Rogers ABPU growth should remain stable at 2.5 percent, he says that Bell and Telus may struggle, "given the lapping of premium plans over the past year."
The Big Three are bolstering these losses through price increases announced in February. But those changes likely won't be felt until the second half of the year, when consumers gear up for the back-to-school and holiday buying seasons.
"Price changes typically kick in as customers upgrade their devices and make plan changes," Fan said.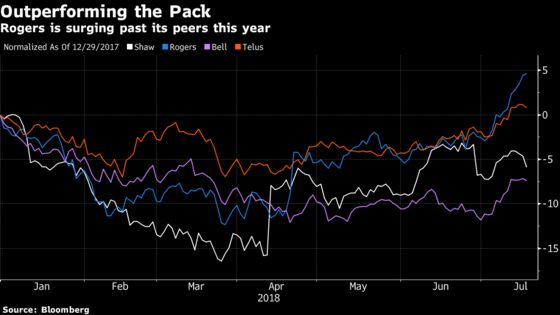 Analysts on average expect Rogers to report second-quarter adjusted earnings per share of C$1.05, according to 15 estimates compiled by Bloomberg; revenue is expected to be C$3.78 billion, the average of 13 estimates. Analysts see post-paid wireless net additions of about 97,600, based on 5 estimates.
Shares of Rogers have outperformed Telus and Bell so far this year, gaining 4.6 percent and approaching their November record high. The largest of the bunch by market cap, Bell, is the sole telecom stock to decline this year, falling 7.4 percent.