This Could Be the Next Industrial Activist Target
(Bloomberg Opinion) -- Cracks are forming around Rockwell Automation Inc.'s steely exterior, and activist investors may soon take notice.
Six months ago, the maker of factory-automation tools was enjoying a record stock price and spoke with a swagger as it rejected a series of takeover bids from Emerson Electric Co. At the time, Emerson's pursuit seemed overly ambitious and its final $29 billion bid would have required a major increase to its debt load. I stand by that, but the deal wasn't without logic, and with Rockwell's stock now lagging, the company looks equally overly ambitious for refusing to even hold talks with Emerson.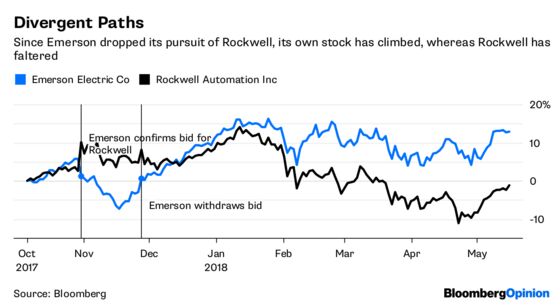 Rockwell's performance since Emerson abandoned its hunt in November has hardly been disastrous, but any kind of decline is out of the norm. Its 6.5 percent slide in 2018 is the worst for the company at this point in the year since 2008. Perhaps more importantly, Rockwell shares have commanded an average price of about $173 over the past month, a roughly 20 percent discount to the $225 headline value of Emerson's latest bid.
Emerson is moving on, last week striking a smart-looking alternative deal for Aventics. But Rockwell has yet to lay out a clear strategy to back up its claim that the stand-alone company has "the talent, the technology, the culture and the resources necessary to continue raising the bar." That will only get harder as the economic cycle moves against it, as Stifel Financial Corp. analyst Rob McCarthy has noted.
Rockwell primarily caters to manufacturers of distinct products, such as cars or electronics, rather than the batches of chemicals and oil derivatives that process-automation suppliers like Emerson typically work with. This was a helpful dynamic while oil prices were hitting the skids, but automotive parts and electronics are sectors that analysts have flagged as being in the later stages of expansion, with momentum starting to wane. In a presentation at this week's Electrical Products Group conference, an annual confab for industrial CEOs, Rockwell CEO Blake Moret said targeted expansion in process automation would help mitigate volatility but "that's not going to happen overnight." 
That played a role in Rockwell's lackluster organic revenue growth in its most recent quarter. Sales increased 3.5 percent excluding the impact of M&A and currency swings. Again, not disastrous, but that's at the low end of Rockwell's 2018 guidance and toward the bottom of the heap for industrial companies in the period. Such middling growth is at odds with Rockwell's premium valuation and its reputation as a pure-play bet on the booming Industrial Internet of Things, the push to harvest data out of manufacturing equipment.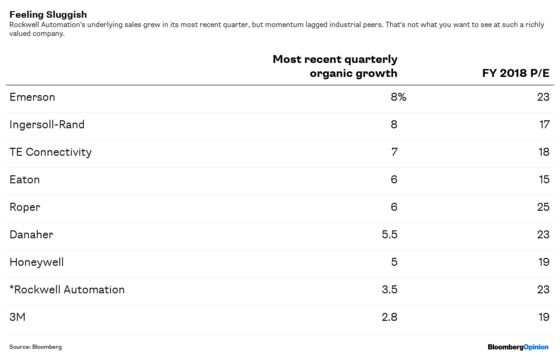 Historically, Rockwell's revenue growth through the economic cycle hasn't exceeded global GDP, notes Scott Davis of Melius Research. One reason that hasn't bothered investors more is Rockwell's propensity for steady margin growth and a high return on invested capital. The risk, however, is that Rockwell is so wedded to these metrics that it protects profit growth at the expense of needed investment. Barclays Plc analyst Julian Mitchell thinks the company is spending far less than what it should to be competitive in the Industrial Internet of Things.
Capital expenditures stood at a mere $142 million in fiscal 2017 and R&D expense was $348 million. Rockwell said R&D increased 9 percent in the first half of this year, and it's targeting a $70 million boost to investment spending that's weighted toward the back end of 2018. By contrast, Siemens AG has spent billions on software deals, while Swiss automation giant ABB Ltd. paid close to $2 billion for Bernecker & Rainer Industrie-Elektronik GmbH last year. Both spend heavily on R&D. It's not a perfect comparison as ABB and Siemens are larger and more diversified, but it's enough to raise questions about whether Rockwell is at risk of falling behind.
Rockwell has historically been well run and well-liked by investors, but good will doesn't last forever. There are plenty of companies besides Emerson that would love to own Rockwell. Unless management can prove it can create value on its own, an activist investor may start encouraging it to give those buyers a call.