Gaza Rocket Barage Draws Dozens of Israeli Airstrikes
(Bloomberg) -- Israeli aircraft struck dozens of targets across the Gaza Strip overnight following rocket barrages on southern Israel.
The flare in violence, which caused no serious casualties, followed another deadly confrontation Friday during Palestinian protests along the Gaza-Israel border. Health officials in Hamas-ruled Gaza reported that Israeli troops killed five Palestinians, and a sixth died while making a homemade bomb.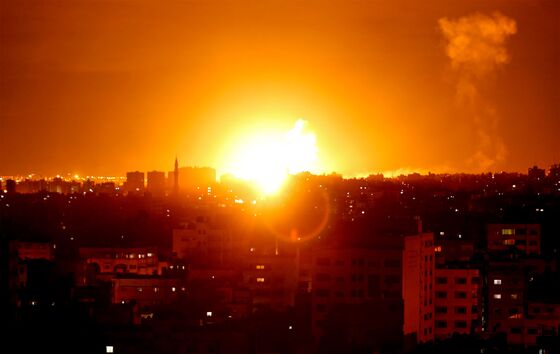 The Islamic Jihad group claimed responsibility for the rocket attacks, saying they were in response to the deaths on Friday. Around midday, it said in a statement that it had agreed at Egypt's behest to cease fire and keep the situation from deteriorating further.
The Israeli military said it viewed the rocket assault "severely" and held Hamas responsible for anything that happens in the enclave. It accused the regime of Syrian President Bashar al-Assad and Iran's Al- Quds Force of being behind the bombardments.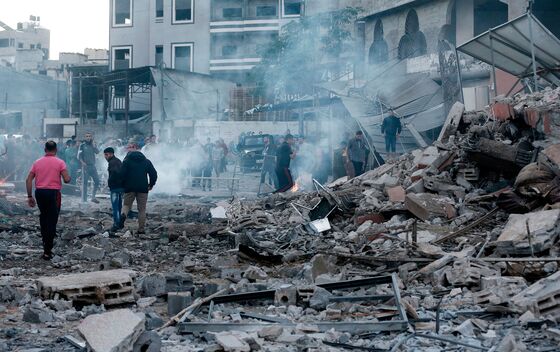 More than 30 launches were identified from Gaza beginning late Friday, the Israeli military said, and about a dozen were intercepted by the Iron Dome missile defense system. Israeli aircraft struck around 95 sites, including weapons manufacturing facilities and military compounds including Hamas's security services headquarters, it said. Other targets included the entrance to a tunnel dug to infiltrate and attack Israel, and an anti-aircraft observation post, it said.
Gaza Health Ministry official Ashra al-Qedra said an airstrike on northern Gaza leveled an empty four-story building. A hospital near one of the targets was slightly damaged, he said.
Confrontations between Gaza and Israel began escalating in late March after Palestinians launched a campaign of weekly Friday protests against Israel. Israeli snipers deployed on the border have killed more than 210 Palestinians, and one Israeli soldier was killed by sniper fire from Gaza.
The Gaza protest campaign has included frequent attempts to cut through the 10-foot-high (3-meter) wire border fence to enter Israel. Gazans have also sent flaming balloons and kites over the border, setting fire to thousands of acres of forest and agricultural land.