Roche's 138% Premium for Spark Shows M&A Arms Race for New Drugs
(Bloomberg) -- Shareholders in Spark Therapeutics Inc. woke up Monday to news of a windfall: Roche Holding AG agreed to buy the Philadelphia-based gene therapy company at a price that's more than double where the shares closed on Friday.
Such massive premiums are growing more common in the pharmaceutical and biotechnology industries this year as drugmakers, eager to snap up lucrative medicines, pay prices that will deter potential counterbidders.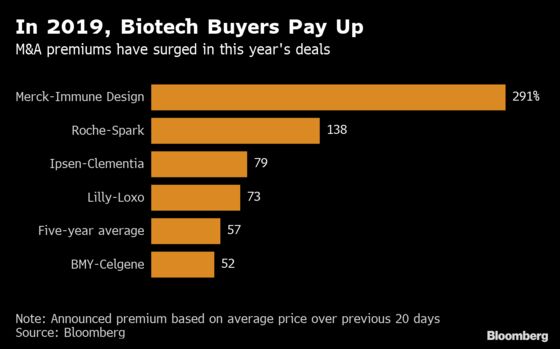 Acquirers of drug and biotech companies over the past five years paid an average premium of 56.5 percent, according to data compiled by Bloomberg. This year, though, the premium has jumped to 78.6 percent.
Roche's $4.8 billion offer for Spark wasn't even the most generous this year, the data show. Merck & Co. last week agreed to buy Immune Design Corp. for $5.85 a share, or almost 300 percent more than the last close -- a level that still fell short of some analysts' forecasts for the stock price.
Bristol-Myers Squibb Co.'s more-than $70 billion agreement for drugmaker Celgene Corp. in January is the biggest deal so far this year with a 52 percent premium, the data show.