Robinhood Is Said to Draw on Bank Credit Lines Amid Tumult
(Bloomberg) -- Robinhood Markets, the trading app that's popular with investors behind this month's wildest stock swings, has drawn down some of its bank credit lines to ensure it has enough cash to clear trades, according to people with knowledge of the matter.
The firm, according to one of the people, has tapped at least several hundred million dollars, a significant amount of money for a firm that was valued at about $12 billion a few months ago. Robinhood's lenders include JPMorgan Chase & Co. and Goldman Sachs Group Inc., according to data compiled by Bloomberg. Representatives for Robinhood and those banks declined to comment.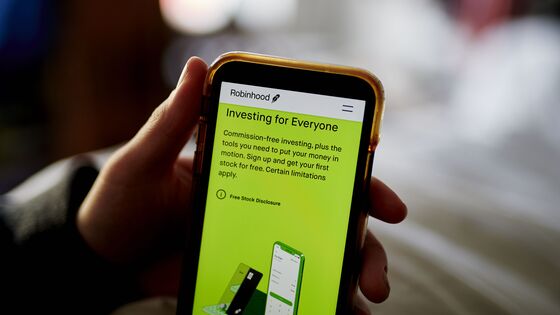 The behind-the-scenes rush to bolster Robinhood's finances adds to signs that recent market havoc is putting a strain on the company, which has signed up throngs of retail investors for its app during the pandemic. The firm is among brokerages that clamped down on trading in shares of GameStop Corp. and AMC Entertainment Holdings Inc. on Thursday, setting off outrage among customers, after those stocks posted gains of well over 100% on Wednesday alone. Robinhood also told users it may close out some of their positions as it takes steps to reduce account risks.
While those gains in GameStop and AMC were thrilling Robinhood's customers -- and punishing the Wall Street short sellers who had bet against the stocks -- they were putting growing financial pressure on the brokerage. As Robinhood clients purchased shares and call options, the brokerage saw an increase in the amounts it needed to deposit at its clearinghouse, a crucial piece of market infrastructure that manages industry risk.
"As a brokerage firm, we have many financial requirements, including SEC net capital obligations and clearinghouse deposits," Robinhood said in a blog post Thursday. "Some of these requirements fluctuate based on volatility in the markets and can be substantial in the current environment. These requirements exist to protect investors and the markets and we take our responsibilities to comply with them seriously, including through the measures we have taken today."
Robinhood Chief Executive Officer Vlad Tenev said the firm drew down its credit line and restricted client buying of certain stocks to protect its financial position.
"Look, it is not negotiable for us to comply with our financial requirements and our clearinghouse deposits," Tenev said Thursday on Bloomberg Television. "We have to do that."
The extreme volatility "generated substantial risk" for brokerages, resulting in the need for stricter requirements on those firms, according to the Depositary Trust & Clearing Corp.
"When volatility increases, portfolio margin requirements increase too," Wall Street clearinghouse DTCC said in an emailed statement.
With its user-friendly app and commission-free trades, Robinhood grew swiftly in recent years and then all the more during the pandemic, becoming the platform of choice for legions of people turning to stock markets to earn money and pass time during lockdowns. For months, the firm has been expected to hold an initial public offering this year.
But this month's drama around a surge in prices for GameStop and AMC, coordinated by investors on Reddit, has put Robinhood at the center of controversy. The company said after the close of U.S. trading on Thursday that it will allow "limited buys" to resume in certain affected securities.
Robinhood has leaned on its credit with banks to weather turmoil before. In March, the firm drew down an entire $200 million facility from a trio of lenders, people familiar with the matter said at the time, as the coronavirus pandemic set off a flood of transactions and steep market swings, during which Robinhood's trading platform suffered repeated outages.
The trading restrictions drew a rebuke from Democratic Representative Alexandria Ocasio-Cortez, who suggested closer scrutiny from U.S. regulators and Congress. A prominent Senate Republican, Ted Cruz, agreed. Tenev acknowledged the bipartisan accord.
"We are glad both sides of the aisle are coming together here, obviously under difficult circumstances," he said.