Rob Ford's Brother Tests a Canadian Brand of Trump's Populism
(Bloomberg) -- Stop me if you've heard this before: He's a populist who upended the party establishment, pledging tax cuts, mocking elites and riding a wave of anger toward a liberal woman with baggage.
Meet Doug Ford, the front-runner out of the gate to become the premier of Canada's most populous province -- one of the top political jobs -- under a "For the People" slogan. Ford won control of the Ontario Progressive Conservative party this year after its leader, who'd been cruising to victory, was felled by a Me Too scandal. Ford reminds many of Donald Trump -- a businessman, more populist than conservative, not particularly concerned with policy and with a skill for connecting to voters.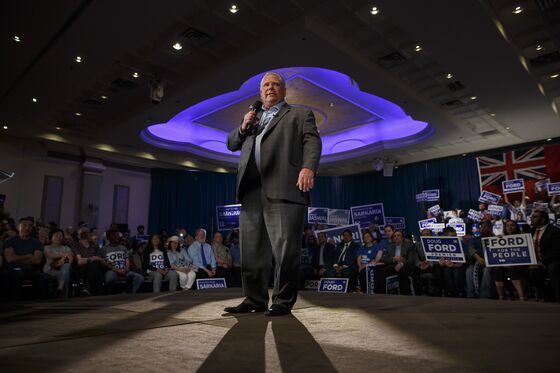 If he's on the way to victory, it's partly because the five-year incumbent, Kathleen Wynne, is deeply unpopular. Her party has held power for 15 years and managed to annoy nearly everyone. Few premiers have been as close to Prime Minister Justin Trudeau as Wynne, meaning Ford's rise is fueled in part by weariness with Trudeau liberalism.
Ford rose on a political base painstakingly built over years: Ford Nation. It elevated Doug's brother, Rob Ford, to mayor of Toronto in 2010, a notorious political arc marked by cocaine use, drunkenness and erratic behavior that tarnished the national image. Doug -- older, domineering, with fewer demons -- was a councilor and de facto co-mayor. Crucially, unlike Trump, minorities are key backers of Ford Nation.
"I hear your frustration, believe me, and change is coming," Ford told a raucous rally last week in one of the Toronto bedroom communities known by its telephone area code -- the 905 region, a vote-rich crown jewel of political campaigns. "A new day will dawn in Ontario, a day of opportunity, growth and prosperity the likes this province has never, ever seen."
Ford took over when his party had a big lead in Ontario, the home base of Canadian finance, business, tech and manufacturing. But the Ford brand is polarizing and the province's third major party, the left-leaning New Democrats, has shot up in polls since he showed up. Rather than finally crowning the conservatives, Ford could end up driving voters to the NDP and its leader, Andrea Horwath. Ahead of a June 7 vote, the question is: Can he hold onto the lead he inherited?
Ford was born 53 years ago in the Toronto area, the third of four children to the late Doug Sr., who also had a political career. The family has amassed a modest fortune through its closely held labeling business, Deco Labels & Tags Ltd., which Doug has run and expanded into the U.S. While Rob served as mayor from 2010 to 2014, Doug was at his side and when Rob fell ill -- he passed away from cancer -- Doug stepped in to run for mayor, finishing second.
The brothers were close, but different, says John Filion, a Toronto City councilor who wrote a book about Rob Ford. "Rob was painfully shy, Doug's an extreme extrovert," he says. "Rob wasn't really successful at anything other than politics, Doug's been a successful businessman. Rob was kind of natural, Doug is very calculating.''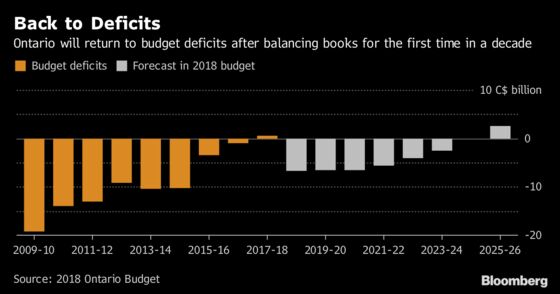 Patrick Brown, a prodigious organizer and former federal lawmaker, was the conservative candidate for premier when he resigned after a CTV News report -- which he denied -- alleged sexual misconduct with two women.
Wynne and the incumbent Liberals are seen by some as advancing an agenda too far to the left: a cap-and-trade system on carbon emissions, steep minimum wage hikes, free pharmaceutical coverage and tuition for some. All this in a province rated by Moody's as having the most total debt of any sub-national government. No issue, though, is more important than electricity prices, which had spiked in recent years as traditional manufacturing jobs dried up. Ontario is part Manhattan, part Silicon Valley and part rust belt.
There were four candidates to replace Brown. Ford won by a hair and has shown a ruthless streak -- ditching the social-conservative candidate whose support clinched his victory.
Ford has released news-style interviews conducted in-house, prompting Wynne's Liberals to cite "actual facts'' in a dig at him. He's endured a series of controversies involving fellow candidates who've made remarks criticized as hostile to gays and Muslims. The campaign has had skirmishes with the media. He flip-flopped on a plan to build housing on protected green space. Signs and clothing spotted at his rallies include slogans like MOGA, for Make Ontario Great Again. Chants of "lock her up" were reported at one of his rallies; Ford disavowed it.
Like Trump, he is less concerned with granular policy. He hasn't yet released a costed platform and has pledged billions in either tax cuts – such as 10 cents a liter off gas – or new spending. He pledges to find billions in new government savings without laying anyone off, which many consider impossible, given that provincial spending largely goes to healthcare and education.
The Progressive Conservatives have been here before. The last two elections were lost more by their errors than Liberal brilliance –- last time, the leader pledged to cut 100,000 jobs from the government payroll, which proved to be a colossal error. That might explain why Ford is pledging to cut none but somehow cut costs.
If Ford wins, he's promised to kill the cap-and-trade system -- setting up a fight with Trudeau -- and fire the head and board of power provider Hydro One. "We sit back and we watch the six-million-dollar man line his pockets, feather the nest of all his buddies, making backroom deals," he said.
To one of his opponents in the Toronto mayoral race, policy isn't Ford's priority. "I think he's mostly interested to be in power, and I get less of a sense of precisely what he wants to do," says Olivia Chow, who was also a federal lawmaker with the New Democrats.
The rise of the left-leaning NDP is driven by voters who want Wynne out but can't stomach Ford. It has momentum but still a ways to go. The election will come down to the 905. Ford's party is generally strong there, which with rural strongholds could be enough to win.
A possible outcome is a minority government, where no one party has more than half the seats and must cooperate to govern.
Huge swaths of first and second-generation Canadians live in the 905, many of whom came to Ford's rally. His supporters expressed some unease -- "rough around the edges,'' said one -- but seemed largely smitten.
Fifty-year-old Kai Zhang, moved from China and became a citizen in February; his first vote as a Canadian will be for Ford. He believes Ontario needs to be more business-friendly, funding education and other things but "not just welfare, welfare, welfare.''
Real estate broker Esa Para Esananda moved to Canada 30 years ago from Sri Lanka. He voted Liberal when they won power but he wants a change. "Doug Ford has a history of connecting with ordinary people,'' he says. "Certainly, he's not a seasoned politician, but he comes about as genuine.''