Rivals and Tariffs Sink Wayfair But Analysts Like the Long Term
(Bloomberg) -- Investors are panicking after Wayfair missed earnings, but the long-term outlook is solid, Baird and Buckingham said.
Wayfair dropped as much as 18 percent after reporting wider than expected adjusted loss per share. Baird analyst Colin Sebastian, who is neutral on the stock, says investors are concerned about tariff-related price increases and slow international growth, which will lead to near-term pressure on the stock.
"Ebitda losses reflect customer acquisition, logistics and international build-out" costs, Sebastian wrote in a note. The investment in growth initiatives abroad don't detract from top-line growth that remains strong and customer metrics that are showing improvement.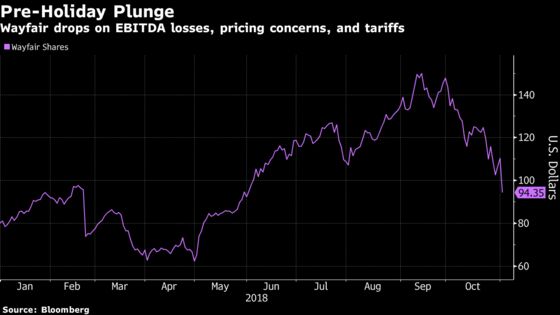 Buckingham Research's John Steger, who is bullish on the stock, points to ad spending as the culprit, noting it was about $11 million higher than expected. He noted revenue growth of 43 percent beat his estimate of 39 percent.
The pain may not subside so quickly: Management said more aggressive competitor discounting during the holidays could push gross margins to below the 23 percent guidance area. The company also pointed out macroeconomic factors, particularly tariffs, could be a headwind.