Risks Loom for Hong Kong Housing Where 97% of People Make Profit
(Bloomberg) -- Hong Kong's buoyant residential real estate market has long handed home owners a tidy profit, but risks are creeping in.
Apartment prices in the city that have spent the past 17 years on an almost exclusively upward trajectory meant even as the new coronavirus spread, 97.5% of sales in the first quarter resulted in a profit, according to Ricacorp Properties Ltd.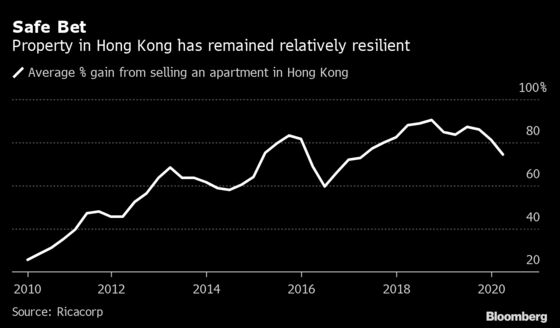 The market isn't without its challenges, however.
Social distancing measures have meant it's much harder for real estate agents to show properties and some developers have had to delay project launches. And while the bulk of home owners in the first quarter sold at a profit, those that didn't numbered the highest since 2016.
"The coronavirus, with its impact on the economy, will put pressure on the property market," Derek Chan, Ricacorp's head of research, said. "We expect it will be harder for owners to price aggressively in the current quarter."
Using Land Registry data, the agency canvassed more than 5,000 transactions in the three months through March 31 and found that of those home sellers who came out ahead, the gain was on average 75%. Prior to sale, the properties had been held for an average of 9.5 years.