Rising Wall of Worry Has Kavanaugh at Bottom of It: Taking Stock
(Bloomberg) -- Stock futures are at session highs, though you can pretty much hear a pin drop given partisan trepidation and a dearth of news flow ahead of the Kavanaugh hearing scheduled for 10am. The three-point lift in the S&P futures doesn't appear to have a lot of conviction behind it, just like any other mini-rips this week as the cash index has fallen for four straight days.
Meanwhile, the 10-year yield fell to an overnight low of 3.028%, or a ~7bps reversal from Wednesday morning. That would conceptually give a bid to the yield-sensitive sectors, although that didn't exactly materialize yesterday afternoon despite the rally in Treasuries.
Non-Kavanaugh things to watch for today include potential weakness in the home goods retailers like Williams-Sonoma or Pier 1 after a major whiff at Bed Bath & Beyond (plunging 15% post-market and looking to open at its lowest level in over 18 years), ~$1.1 billion market cap biotech stock Geron getting annihilated by ~65% in early trading after the discontinuation of a licensing pact, any move in Salesforce with the sell side collectively publishing their thoughts on the big Dreamforce conference (so far seems like mostly bullish takes, especially on Mulesoft integration), and the cruise liners from Royal Caribbean to Norwegian Cruise with peer Carnival on tap to release numbers later this morning.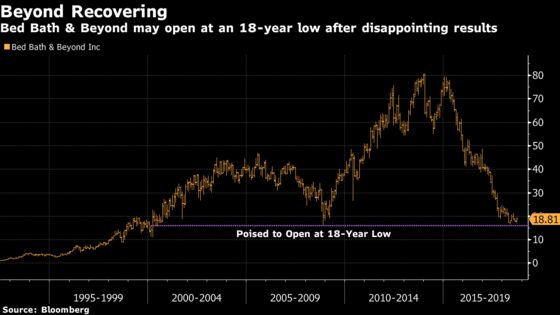 It took about an hour and a half, but stocks eventually took their cue from the Fed statement for an end-of-day selloff (a 28-point turnaround on the S&P 500) to close at the day's lows. No sector was spared, even the yield-sensitive ones like the utilities and the REITs that you'd think would have reacted positively to the ~5bps drop in the 10-year since the morning.
But the most-hit space was the financials, which finished with its worst day in over two months. The selling was broad-based, from the big banks to the regionals, the exchanges, the online brokers, you name it. And it's a shame for the longs, for this was shaping up to potentially be the week that the banks finally broke out of their range, thanks to a strong run-up in the 10-year in conjunction with the BKX index's umpteenth attempt to smash its rock-solid resistance at about the 110 mark.
But don't despair if you're long the banks -- Goldman's options team is out with a big note recommending clients to buy calls on the financials, specifically the BKX, XLF, and KRE ahead of a macro catalyst-heavy week followed by the a mad rush of earnings. "We estimate banks (BKX) have underperformed their normal relationship with macro assets by over 15% in the past 6-months (a 2 standard deviation dislocation)," strategist John Marshall writes.
So why the sell-off? Some are pointing to the Fed's language, or rather their removal of some language (specifically the adjective "accommodative" when describing policy), as a dovish sign despite Powell's aim to calm the waters in his press conference, where he said that "this change does not signal any change in the likely path of policy." Others point to his comments about inflation or when he acknowledged that some asset prices are in the "upper reach of their historical ranges." Not great to hear from a long-only perspective.
Aside from the FOMC, there wasn't really much else to point to for the selloff, unless you want to pin any of this on the atrocious display that is playing out in U.S. politics right now, with revelations over the Kavanaugh saga unfolding throughout the day. All of this, though, was before Trump's fireworks-filled presser that lasted an hour and sixteen minutes, where 1) he railed on Canada's negotiating style and said he'll tax Canadian auto imports if a deal can't be reached, 2) he indicated that his personal friendship with China President Xi Jinping may be over, 3) he slammed Powell for raising rates again, and 4) he called the allegations against Brett Kavanaugh a Democratic "con job" -- of course, get ready for things to get hairier with the Kavanaugh hearing set to begin at 10am today.
Wall of Worry Gets Taller
The other thing that has cast a bit of a cloud over this market is the ugly action taking place in some of the most important stocks and sectors in this market -- I mentioned GE's accelerating downspiral spiral in yesterday's Taking Stock, but what about Goldman Sachs declining 16 of the past 21 days?
Or how about Facebook edging closer to its Cambridge Analytica lows from earlier this year, or the awful sentiment in the semiconductors sector, or how about the homebuilders that continue to make new lows day after day (see chart below) as housing data continues to underwhelm? Or what about some of the miserable earnings and outlooks issued over the past week and a half that stand in stark contrast to the beats and raises we received last quarter?
These aren't reasons why the market fell in the last 40 minutes of trading, but they are all a part of the wall of worry, which is topped by the trade war conundrum, that is starting to get taller by the day.
And to add to this wall comes Oaktree Capital Group's co-founder Howard Marks and his latest memo that was published yesterday that talks about market cycles, the seven worst words in the investment world ("too much money chasing too few deals"), and the principle source of trouble for the financial markets ("it appears to be debt instruments that will be found at ground zero when things next go wrong").
The memo ends with this grim two-liner: "Just about everything in the investment world can be done either aggressively or defensively. In my view, market conditions make this a time for caution."
And for the New Yorkers with a penchant for FAANG long positions, you may want to schedule a client lunch or an ideas dinner in Soho sometime in the near future to check out the brand spanking new "Amazon 4-Star" store that opens today at the cross street of Spring between Crosby and Lafayette.
The concept is a bit different than the company's other brick-and-mortar stores that you've recently heard about (the bookstores, the AmazonGo cashierless convenience stores, Whole Foods) in that it's focused on featuring products on the website that are top-selling, highly rated, or are new and trending.
And no, I don't think this will impact stocks today, but there's no question that market participants will be doing their channel checks to find where this fits in the "Amazon Effect" spectrum of the retailpocalypse scenario (remember that whole Bed Bath & Beyond hitting 18-year lows bit?) and whether we could be seeing many more of these "4-Star" stores popping up out of nowhere. It's always a possibility with Bezos -- just take our own reporting from last week that said the company is mulling a plan to open up to 3,000 of those AmazonGo stores in the next few years.
Notes From the Sell Side
Northland Capital slashes its rating on AMD to a market perform. They still see the company presenting a challenge to Intel, but they say the shares now reflect "irrational expectations"; note the stock is up 213% year-to-date and remains the top performer in the S&P 500 by a long shot.
Loop Capital downgrades Applied Optoelectronics to a sell with a Street-low price target $20, smacking shares by almost 9% so far in the pre-market. The reason is tied to industry checks that suggest the company is having product quality issues in their 100G CWDM4 transceivers in addition to a "very tough" pricing environment for 100G data center optics.
Morgan Stanley is now the biggest bull out there on CyberArk Software after upgrading shares to an overweight and lifting its price target to a Street high of $92. They cite improving demand for Privileged Access Management, which is becoming more broadly adopted as security budgets focus on protecting identities, and greater pricing flexibility.
Bernstein says the weakness in the U.S. ethylene names (DowDuPont, LyondellBasell, and Westlake) tied to multiple analyst downgrades and a spike in ethane prices is overdone: "The actual impact on the companies appears well less than numbers we hear tossed around on the street."
Tick-by-Tick Guide to Today's Actionable Events
Today -- ADMP/Novartis PDUFA date for Symjepi
7:00am -- RAD, SCHL, ANGO earnings
7:30am -- CAG earnings
8:00am -- CMD earnings
8:30am -- GDP, Durable Goods, Wholesale Inventories, Advance Goods Trade Balance
8:30am -- RAD earnings call
9:15am -- CCL earnings
9:30am -- JPMorgan CEO Jamie Dimon speaks at New York Times' New Rules Summit
9:45am -- Bloomberg Consumer Comfort
10:00am -- Kavanaugh hearing begins
10:00am -- Pending Home Sales
10:00am -- TDOC investor day
10:00am -- CCL earnings call
10:30am -- EIA natgas storage
11:00am -- INTU investor day
12:30pm -- Fed's Kaplan speaks at forum
2:30pm -- OKTA CEO Todd McKinnon on Bloomberg TV
4:05pm -- CAMP earnings
4:30pm -- Powell makes remarks on economy at Senate event
4:30pm -- PRGS earnings
4:30pm -- CNAT analyst symposium
7:30pm -- PFG analyst meeting
8:20pm -- Vikings at Rams (-7)
Tonight -- IPO expected to price: Gritstone Oncology (GRTS)