Rising Interest Rates Start to Repel Car Buyers From Showrooms
(Bloomberg) -- Rising interest rates are putting pressure on U.S. auto sales and approaching the point where they will turn buyers away from new vehicles, according to the head of the National Automobile Dealers Association.
"Consumers are stretched at this point, budgets are tight," Wes Lutz, chairman of the NADA, told reporters following a speech to the Automotive Press Association in Detroit. "Payments have gone up. Cars are going up $1,000, $1,500, $2,000. It's a huge concern for us."
Interest rates on car loans are approaching 6 percent, up from as low as 2.5 percent, Lutz said. That is creating an affordability problem and driving buyers into used cars, he said. Auto sales will ultimately decline more rapidly unless automakers take steps to address rising new car prices, he said.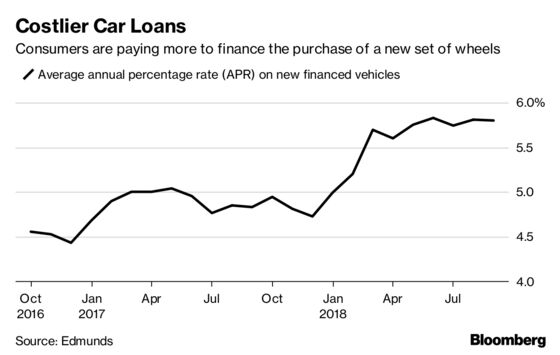 "This should be concerning for everyone because the new vehicles are more fuel efficient and they're safer, and the goal is to get those vehicles on the road to eliminate the old vehicles," said Lutz, who has a Chrysler, Jeep, Dodge and Ram store in Jackson, Michigan. "If we price these vehicles out of the reach of most consumers, we're not doing ourselves any good with pollution or gas mileage or safety. It's important that the manufacturers get it right."