Get Out of Bed, Mexico. How AMLO Became a YouTube Star
(Bloomberg) -- He slams the media for making false claims, blasts judges for earning too much while doing too little and dismisses members of the opposition as corrupt elites. When he's challenged, he digs in, deflecting attacks with some of his own.
But unlike Donald Trump pecking away on Twitter, Andres Manuel Lopez Obrador is captivating his constituents -- or infuriating them -- during daily, 7 a.m. press conferences that are live on YouTube and can go on for more than an hour. The Mexican president is alone in the region, perhaps in the world, in keeping such a relentless schedule.
Lopez Obrador probably spent more time fielding reporters' queries in six weeks than his predecessor Enrique Pena Nieto did in six years.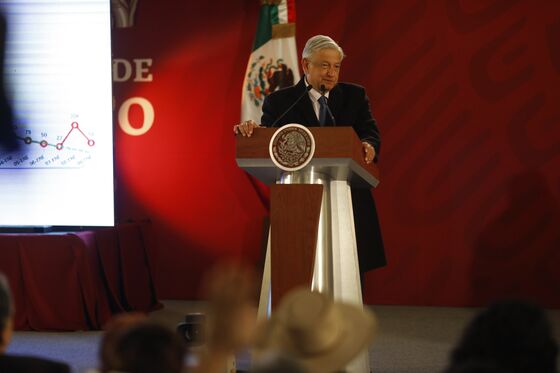 AMLO, as the leftist leader is known, got started two days after his Dec. 1 inauguration, declaring he was carving a path radically distinct from the deeply unpopular Pena Nieto, who followed longstanding tradition by avoiding indelicate question-and-answer sessions that might stain the office. "There are no barriers here. Things are different -- or were they like this before?" Lopez Obrador quipped that day, five months after his landslide-election victory.
The 65-year-old has kept up the pace. Every working-day morning, he takes the podium in the National Palace, standing against a backdrop of portraits of Mexican revolutionary heroes, turning out folksy phrases ("Cocoa can be thick, but accountability should be clear") and dropping bombshells, among them a proposal for a three-year moratorium on private-oil drilling auctions. And dodging questions on thorny issues, including a massive airport project he scrapped mid-construction.
Like most politicians, AMLO gets flack for his ducking and weaving; the magazine Nexos is tracking how often he sidesteps questions, which it calculates is 30 percent of the time.
Some critics liken his pressers to Trump's tweets, in that even when they lack substance they dominate the public discourse so thoroughly there's no oxygen left for anyone else. But a lot of Mexicans are eating the AMLO show up. He has turned them into morning people -- mananera, which roughly translates into early riser, has become the colloquial term for his press conferences. The major television networks often broadcast them. The YouTube channel scores hundreds of thousands of hits.
All the uncomfortable plastic chairs in the press room are often filled, on occasion with a few reporter-impostors who sneak in with fake IDs in the hope they'll be called on so they can rant about something to the president. One claiming to be a newspaperman managed to grab the microphone to demand that AMLO not invite Guatemalan indigenous leader Rigoberta Menchu to Mexico.
On stage, AMLO doesn't miss a chance to bolster the man-of-the-people image that propelled him to victory. Once, he pulled his weather-worn wallet out of a pocket and opened it. "Just so you understand," he told reporters, many filming his every move with cameras and phones hoisted on selfie sticks. The wallet contained a U.S. two-dollar bill he said was given to him for good luck and a 200-peso bill worth about $10. He insisted he has never had a checking account or credit card. The suits he wears? That's only to pay respect for the position he holds.
Another time, in typical AMLO fashion, he went off on a favorite tangent about baseball, and how it could be a tool to fight the nation's obesity trend. This may seem a strange sport to champion in a nation obsessed with soccer, but the president is a huge baseball fan, frequently donning caps and jerseys of the Los Angeles Dodgers and the St. Louis Cardinals.
During Friday's press conference, Lopez Obrador doubled down on his decision to shut down pipelines to prevent gasoline theft, a controversial move that has caused shortages in several states and created long lines at pumps in Mexico City. In response to criticism, he has called on motorists "not to give into the criminals."
Whatever the topic, regular pressers are nothing new for him. He held one almost every day when he was Mexico City's mayor from 2000 to 2005. Reporters initially annoyed to have to wake up early grew so enamored of his routine that they had to be removed from the beat.
He's not always out to appeal to his audience: He isn't shy about going after the very outfits transmitting his populist message, recently lashing out at the Reforma newspaper for claiming Mexico City homicides rose under his watch and dismissing the publication as "prensa fifi," or the posh media.
No matter. Reporters can't stay away. At one, shouts of "presidente, presidente!" came from five rows of them frantically waving their hands. He was in his element, being charming, pulling tricks. He pivoted and said, "There needs to be gender equality." A woman picked up the mic. "No," he explained, and pointed. Since a woman asked the previous question, "the next question is for him."