Rio's Dirty, Foul-Smelling Water Renews Privatization Push
(Bloomberg) -- The cloudy, foul-smelling water that runs from the taps in Rio de Janeiro is the latest crisis to rock the iconic city, underscoring the urgency behind a push to privatize public services like sanitation.
About 9 million people in and around Rio have been doubting the safety of their water supplies since early this month. Supermarket shelves are bare of bottled water after a rush to stock up. And the strain on resources is due to get a lot worse as 2 million people descend on Rio for Carnival festivities in February.
While the state-owned water company, known as Cedae, blames geosmin, a naturally occurring organic compound produced by algae that it says is safe to drink, it's also a culmination of decades of mismanagement and paltry investments. Most raw sewage ends up in rivers in Rio state and only 29% of it is treated, federal government statistics show. Water experts speculate that the filth probably helped the algae proliferate.
The situation is adding ammunition to calls to sell off sanitation assets across Brazil, a task that has eluded previous governments due to the opposition of unions and politicians who often grant jobs to allies at state-run companies. But after years of repeated crises, including periodic water shortages in a country with the world's largest fresh water reserves, public opinion is becoming more amenable to the privatization of public services.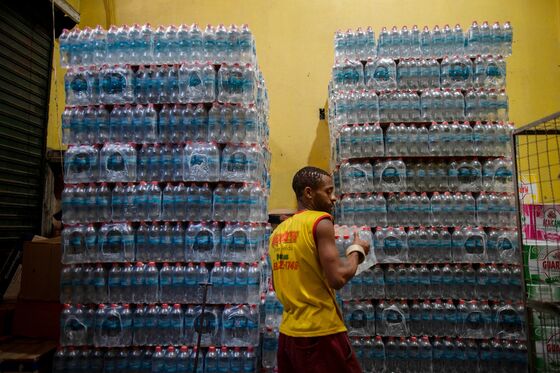 "I'm sorry for the problems they're facing, but at the same time, it's a spectacular demonstration of how incompetent the state is in taking care of our water and sewage," Salim Mattar, Brazil's secretary of privatizations, said in an interview. "It's your classic case of an inefficient state company that held the monopoly, closed the market to any competition, and then was exploited by previous governments."
Rio's government, teetering on the brink of fiscal collapse in recent years, pledged to privatize its water company in 2017 as part of an agreement for a federal bailout loan. It needs 32.6 billion reais ($7.8 billion) to fix its water problem, money the state's Finance Secretary Luiz Claudio Carvalho says it just doesn't have.
Between protests and bureaucracy, privatizations often take years in Brazil -- previous governments averaged about 30 months to go through the steps of the process, according to Mattar, who's at the helm of the administration push to sell off state assets. Cedae's is nearly ready: The plan is to auction off a large part of the system by the end of this year. National state development bank BNDES has divided the state into four blocks, each one claiming a slice of Rio city, set to be the most profitable region for private investors by far. Licenses to operate the systems will run for 35 years, with revenue in Rio state estimated at 331.4 billion reais over the next decade, according to BNDES.
"Quality investors are already showing a good amount of interest," Fabio Abrahao, BNDES's head of infrastructure, concessions and public-private partnerships, said in an interview. He described current conditions as "terrible."
In the meantime, in ritzier parts of the city, tourists are being warned to only use bottled water to brush their teeth and wash their faces.
"We won't drink caipirinhas because of the ice," said Ximena de La Torre, 23, a visiting Argentine.
In poorer neighborhoods, the burden is much heavier. Conceicao da Silva, a 36-year-old nanny, said she's spending more than 10% of her take-home pay on clean water for herself and her seven-year-old son.
"We're buying bottled water to drink and cook," she said. "But we have to shower with dirty water that's not even good enough to wash clothes with."
Here's how the privatization process is set to play out in Rio:
Block 1: Rio city's south zone + 40 cities
Expected investments of 11 billion reais
Revenue over 35 years estimated at 85.8 billion reais
Block 2: Barra and Jacarepagua + 7 cities
3 billion reais in investments
45.8 billion reais in estimated revenue
Block 3: Rio city's west zone + 8 cities
3.5 billion reais in investments
41.5 billion reais in estimated revenue
Block 4: Rio's city center + 8 cities
15.1 billion reais in investments
158.2 billion reais in estimated revenue
Set to be the first block up for auction
Source: Brazil's Bank for Economic and Social Development