Rio Forecasts New Aluminum Capacity Will Be Needed Outside China
(Bloomberg) -- Aluminum producers will need to build additional smelting capacity outside of China as inventories run down in the coming two to three years, according to Rio Tinto Group.
"We see aluminum demand growth being extremely healthy," Alf Barrios, Rio's aluminum chief executive officer, said in an interview. "People believed China was going to be a significant net exporter to the rest of the world in the future, I think people now see China being more balanced."
Holdings of primary aluminum tracked by the London Metal Exchange fell for a second quarter in the period to September and shrunk last month to the lowest level since 2007. Bloomberg Intelligence has a positive medium-to-long view on aluminum based on global deficits persisting over the next three years, while Goldman Sachs Group Inc. judges that the market is too relaxed about supply risks.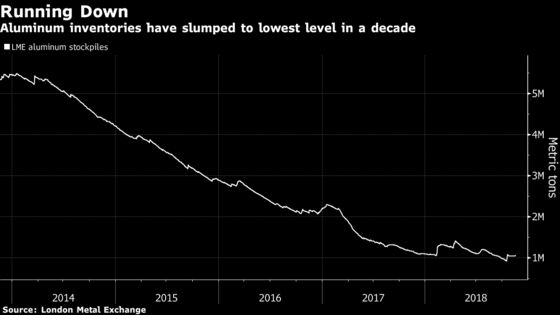 The industry will start seeing inventories coming down to historical levels in the next couple of years, Barrios said. "You still have spare capacity in China, which will have to be absorbed by demand growth."
"We're at an inflection point now that could result in a shift in the prospects for capacity outside of China," Barrios says
Co. "uniquely positioned" with its ops in Canada to take advantage of opportunity; working on brownfield expansions in Quebec and needs to be ready to move from "option-rich to option-ready"
Co. will be patient and make sure it can see the market shifting
NOTE: Aluminum Gains Again as Key Plant Shutdown Spooks Market
Co. announces Monday signing of a memorandum with Nestle Nespresso SA to work with its capsule manufacturers to fulfill a commitment of sourcing 100 percent sustainable aluminum by 2020.