Ride-Hailing Giant Grab Expects to Double Revenue in 2019
(Bloomberg) -- Singapore's Grab outlined ambitious fundraising plans and predicted that sales will double next year, adding to evidence that Southeast Asia's most valuable startup is expanding well beyond its roots as a ride-haling app while intensifying a rivalry with Indonesia's Go-Jek.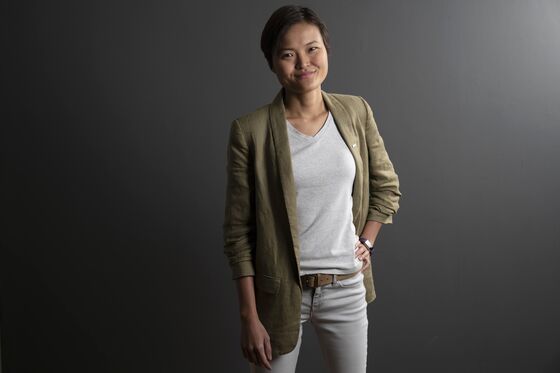 Revenue will double to $2 billion in 2019 as it integrates the acquisition of Uber Technologies Inc.'s regional business and delves deeper into new areas from bike-sharing to digital payments. It's on track to raise $3 billion of funding before the end of this year, co-founder Hooi Ling Tan said at Bloomberg's Sooner Than You Think technology summit in Singapore. That includes $1 billion from Toyota Motor Corp., the Japanese automaker's biggest investment in ride-hailing to date.
Grab is expanding rapidly throughout Southeast Asia, home to more than 600 million people, to become the region's largest transportation platform and leverage its size after the Uber deal. Its funding turns up the heat on Go-Jek, which has announced plans to expand beyond its home turf and enter Singapore, Thailand, Vietnam and the Philippines. Now it's exploring forays into fields as diverse as grocery delivery and finance to health care, Tan said.
"There's more greenfield than in any other region in the world because technology hasn't been able to truly shape the lives of the Southeast Asia region yet," Tan said. "The second big area is to increase our operational presence in Indonesia."
Six-year-old Grab is moving fast against Jakarta-based Go-Jek, which started out as a motorbike taxi-booking service in 2015 before tacking on more than a dozen consumer services that lets users pay bills, order food and buy movie tickets.
Tan said Grab will make a big push in Indonesia, where revenue has tripled so far this year and it has a 65 percent share in the ride-hailing market. Food delivery GrabFood, currently available in 30 cities, will be expanded to more than 130 cities by the end of this year, Tan said.
Backed by investors such as Japan's SoftBank Group Corp. and China's Didi Chuxing, Singapore-based Grab is using its capital to expand both geographically and business-wise.
The Uber deal cemented Grab's grip on ride-hailing in the region, especially in its home market. That has been accompanied by increasing complaints, with users bemoaning prices, delays and lapses in customer service.
Tan said some of the issues revolve around integrating its biggest ever acquisition.
"Hindsight is always 20/20. To be honest, we did make mistakes. We know that," Tan said. "As we were learning things, we were making changes on the go. We have and will be continuing to make investments to learn."
Since the Uber was announced in March, the company has launched a venture arm and opened its platform to fellow startups that can offer more services to its customers. In March, Grab launched GrabCycle, a marketplace for bike-sharing services, and e-scooter rental service Popscoot. Such fledgling endeavors will help the company hit $1 billion revenue for the first time this year, it has said previously.
"There's a huge opportunity right now. We can decide to invest, go big now, just so that we can reap the market that's ripe vis-a-vis growing organically and slower," she said. "We want to set up a multi-generation company."