Richemont Surges on Report Activist Investor Loeb Took Stake
(Bloomberg) -- Richemont shares rose to a record after a report that activist investor Dan Loeb's Third Point LLC built a stake in the Swiss luxury-goods company, spurring speculation of a shakeup that could boost its lagging stock price.
Third Point is now engaging with Richemont, the luxury news website Miss Tweed reported Sunday without citing sources. A Richemont spokeswoman declined to comment, and Third Point didn't respond to questions.
The owner of Cartier and Van Cleef & Arpels has returned far less than bigger French rivals LVMH and Kering in recent years as it grappled with under-performance at its online unit, the Swiss watchmaking business and fashion labels including Chloe and Dunhill.
"Some external pressure is always healthy," said Jean-Philippe Bertschy, an analyst at Vontobel, who has pointed to the performance of some watches and other Richemont brands as poor and called for a more "active portfolio management." 
Loeb has pushed for change at some of the world's largest and most high-profile companies, including Walt Disney Co., Sony Group Corp. and Nestle SA in Switzerland. Last month, Third Point unveiled a stake in Royal Dutch Shell Plc and said it's pushing for a breakup of the energy giant.  
Richemont surged as much as 5.2% to a record 126.55 Swiss francs in Zurich trading. The stock has returned about 15% annually over the past five years, even as LVMH gained 36% and grew bigger with its purchase of Tiffany & Co.
Jewelry is what has shouldered the bulk of Richemont's growth over the last few years.  
Chairman and controlling shareholder Johann Rupert, 71, sunk billions of dollars into its unprofitable online business Yoox Net-a-Porter SpA. The company spent more than a decade trying to build up fashion and accessories brands, but traction remains limited, leading to the divestments of Lancel and Shanghai Tang.
Richemont has undergone repeated management shakeups over the last five years, involving both top executives and the heads of its brands. Rupert controls 51% of the voting rights at the company, which has a market value of 72 billion francs ($79 billion).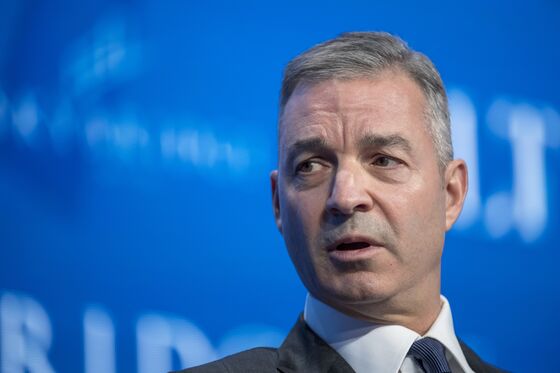 Miss Tweed reported in October that Richemont was considering several options for Yoox Net-a-Porter -- also sometimes known as YNAP -- and in March the website said that it had turned down an informal takeover offer from Gucci owner Kering. 
"Richemont has a number of major issues it needs to decide upon," said Luca Solca, an analyst at Bernstein. "A most immediate one is how to fix and what to do with YNAP, a bigger and broader one is where to stand on the front of the luxury industry consolidation."
Artisan Partners, which owns a 1.2% stake, has also been pushing Richemont to improve its performance, the Financial Times reported Sunday. Media representatives there didn't immediately respond to a phone call and email seeking comment.