D.E. Shaw Backs Rice Brothers EQT Demand After Shares Slump
(Bloomberg) -- A year after selling their company to EQT Corp., the co-founders of Rice Energy Inc. want to have a say in the natural gas operations they used to oversee, and they have the backing of hedge fund giant D.E. Shaw & Co. and the energy company's former chief executive officer.
Toby Z. Rice and Derek A. Rice said Monday in a letter to the EQT board that the company's operations and stock price are underperforming. The brothers outlined a plan to cut costs and improve cash flow, and said they had private talks with EQT Chairman Jim Rohr and Chief Executive Officer Rob McNally in recent weeks, but there wasn't "reciprocal engagement."
The Rices, both in their mid-30s, said they may nominate directors to the board if the company refused to engage with them on ways to improve its performance.
D.E. Shaw, which holds 3.6 percent of EQT according to data compiled by Bloomberg, believes the company needs to replace members of its board including its chairman, and that it needs to bring in outside operational leadership, including Toby Rice, to improve its performance, according to people familiar with the matter, who asked not to be identified because the matter is private.
"The Rice team is proven, highly-respected, and has operated these assets before with tremendous success," Quentin Koffey, a portfolio manager at D.E. Shaw, said in an emailed statement. "Shareholders clearly want change."
Steve Schlotterbeck, who resigned in March 2018 as EQT's CEO over a pay dispute, said he believes the current board and management team lacked the necessary focus and operational experience. Schlotterbeck, who still owns a stake in EQT valued at about $4.2 million, said leadership change was needed after the company's recent poor performance.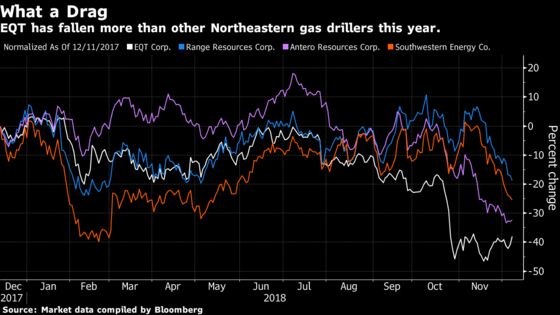 "I agree fully with the Rice plan released today," he said in an interview. "Change is needed in the EQT boardroom and Toby Rice is a true operator and the best person to help the company capture the full value of the asset base."
EQT is taking the "right steps to deliver superior value," company spokeswoman Linda Robertson said in an email. "EQT is a refreshed company with a new management team, new operating plan and substantially reconstituted Board."
The Rices hold over 7 million EQT shares, equivalent to a stake of at least 2.8 percent, after agreeing to the company's 2017 purchase of Rice Energy for $6 billion in cash and stock. D.E. Shaw supported the acquisition but had agitated for EQT to spin off its midstream assets, which it eventually did this year.
McNally took the helm of the company after the departure of Schlotterbeck, and at one point he was the finance chief at Rice Midstream Management LLC.
D.E. Shaw believes that EQT has been unable to effectively operate its upstream assets, resulting in bloated capital structure, weaker production, and a depressed valuation, the people said. A disclosure that it had exceeded its budget by $300 million during the third quarter has only compounded concerns about the management team and board's inability to identify the cause of its operational issues, the people said.
EQT rose as much as 7.3 percent in New York. Prior to Monday, the stock price was down 41 percent this year compared with the 16 percent decline in the S&P Midcap Energy Index.