Return of the Junk-Bond Dividend Deal Shows It's Risk On Again
(Bloomberg) -- Need more proof that investor appetite for risk-taking is returning in the U.S. junk-bond market? Take a look at the debt being offering by Ascend Learning, the educational software maker acquired two years ago by Blackstone Group and the Canada Pension Plan Investment Board in a leveraged buyout.
The $300 million high-yield offering is the first since July that will be used to fund a dividend to a company's owners, a purpose that's typically seen by investors as riskier than other types of deals. It was the first such deal to launch since Bruin E&P Partners sold $600 million of notes in July to, among other things, fund a payout to its equity sponsors, data compiled by Bloomberg show.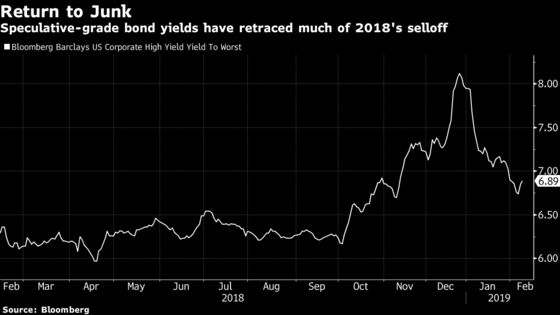 It's just the latest sign that investors have returned to the market with a vengeance after fleeing for safer asset classes at the end of 2018. Here's how the market's been shaping up:
Investors have been pouring cash into funds that buy high-yield debt, with data provider Lipper reporting an inflow of $3.86 billion last week, the biggest since July 2016
U.S. junk bonds have had the best start to the year since 2009 and have been the best asset class in fixed income with year-to-date returns of 4.83 percent
The biggest gains have come in the riskiest part of the market, with triple-C rated notes returning 5.53 percent
The rally allowed CCC+ rated Clear Channel Outdoor to sell $2.235 billion of notes last week with a coupon of 9.25 percent, at the lower end of initial price talk
Clear Channel and CommScope Holding Co. led about $7 billion of offerings last week in the third straight week of solid issuance, bringing 2019's total to about $27 billion