These Are the Stocks That Are Moving on Brexit Breakthrough
U.K. stocks outperformed on Wednesday after news that Prime Minister Theresa May had finally sealed a Brexit agreement with the European Union. Both the large-cap FTSE 100 index and mid-cap FTSE 250 rose slightly, beating declines in the broader European market.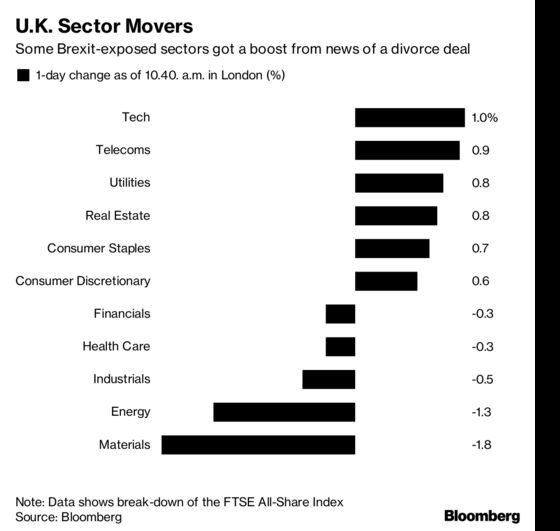 Below is a summary of some of the sectors that were moving on Wednesday.
Banks: FTSE's gauge of U.K. bank stocks fell about 1 percent in early trading, but breaking the sector down offers an insight into how the news is being digested.

While international players like HSBC Holdings Plc (-0.9%) and Barclays Plc (-0.8%) fell significantly, the smaller, domestically-focused companies are outperforming.
So-called challengers like Metro Bank Plc (+1.7%) and Virgin Money-owner CYBG Plc (+1.7%) -- which are looking to grab market share from larger banks -- rose the most.
Those smaller lenders would feel the most pain from any downturn in domestic economic growth in the event of a no-deal Brexit, Citigroup Inc. analyst Andrew Coombs wrote in a recent note.

Homebuilders: Firms that build houses were among the best performers in the U.K. on Wednesday, although not all rose, with Persimmon Plc (-0.7%) and Berkeley Group Holdings Plc (-0.4%) slipping.

While homebuilder stocks have clearly been weighed on by concern that Brexit is hitting housing demand, Shore Capital analyst Robin Hardy says the market has misunderstood the fundamentals behind declining home prices.
Potential home-owners are not as influenced by Brexit as investors think, Hardy said in a note Wednesday. "The slowdown is being driven by a lack of affordability, the inability to save for a deposit and a lack of equity," rather than Brexit's overhang, he wrote.
DIY firms like B&Q-owner Kingfisher Plc (+2.0%), and Wickes-parent Travis Perkins Plc (+0.4%), rose. The home repair sector has been pummeled by the same concerns as the housing sector.

Airlines: easyJet Plc (+1.0%) and Ryanair Holdings Plc (+0.2%) defied the market drop.

The International Air Transport Association said last month that Brexit-related risks to landing rights, pilot licenses and the trade of aircraft parts across borders could wreak havoc on the sector.
But note that airlines are big beneficiaries of declining oil prices, so crude's recent decline may be the overriding factor today.

Retail: High Street names like Next Plc (+2.2%) and Marks & Spencer Group Plc (+1.6%) were among the risers as FTSE's retail benchmark climbed. The Brexit vote hurt consumer confidence while the industry was already grappling with the encroachment of online retailers like Amazon.com, Inc.

Also note that Next shares were benefiting from an analyst upgrade at HSBC on Wednesday.

Cars: Stoxx's benchmark of European automobile manufacturers and parts-makers jumped. Declining U.K. consumer confidence since the referendum, along with concern about manufacturing in the U.K. after the divorce have hurt the sector.

However, Wednesday's gain is probably more linked to non-Brexit news, after the White House was said to hold off on imposing new tariffs on automobile imports.

Foodmakers: Suppliers of ingredients and pre-prepared food to U.K. supermarkets, like Bakkavor Group Plc (+0.8%) and Kerry Group Plc (+0.7%), gained. Upward pressure on agricultural import prices would probably increase in the event of a no-deal Brexit event, due to the likely impact on exchange rates and inflation.

Note that the U.K. Office for National Statistics said Wednesday that food and non-alcoholic drink prices fell in September.

Click here for a more comprehensive breakdown of sectors to watch as May attempts to get her Brexit deal approved by ministers and ratified in parliament.