Macy's, Kohl's Lead Shift From Retail Boom to Post-Holiday Gloom
(Bloomberg) -- As holiday results start trickling in from major U.S. retailers, the early indication is that the road will get a lot tougher for them in 2019.
Bellwether chains Macy's Inc., Kohl's Corp. and Target Corp. all tumbled in premarket trading Thursday after Macy's cut its annual earnings forecast and seasonal sales disappointed at Kohl's. Barnes & Noble Inc. said it may cut earnings guidance by as much as 10 percent, due to increased advertising expenses and promotional activity. Target gave a better performance during the critical period, but it wasn't enough for it to escape the sector's wider carnage.
"There may be some concern that this is as good as it gets," said Joseph Feldman, an analyst at Telsey Advisory Group.
Macy's plunged the most intraday in more than a decade, sliding as much as 18 percent. Kohl's fell as much as 10 percent and Target slipped as much as 4.8 percent as of 9:34 a.m. in New York.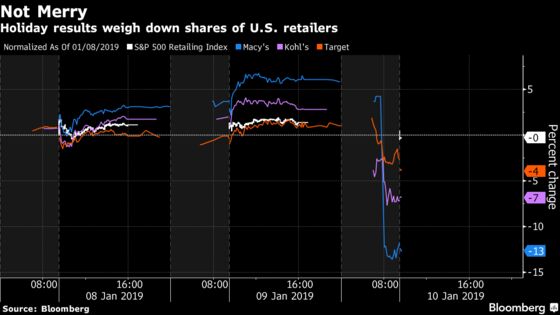 The first round of results soured optimistic forecasts that this could be the best holiday in over a decade, and compounded existing concerns that rising interest rates and Chinese trade turmoil could dent consumer spending, a backbone of the U.S. economy. The doom and gloom mirrors the situation in Britain, where retailers are also grappling with Brexit uncertainty. And things could go downhill from here, according to Sanford Bernstein analyst Brandon Fletcher, who said post-holiday price cuts could depress results even further.
"We think the fear is January markdowns," Fletcher said. "Christmas seemed fine, but right after the 25th, the markdowns were fierce."
While Thursday's company reports gave an early indication of recent performance, the broader picture of U.S. holiday shopping is likely to be murky for several more weeks. That's because the partial federal-government shutdown will probably delay the Commerce Department's data on December retail sales, which were scheduled for Jan. 16. During the last extended shutdown in 2013, the release of retail figures was postponed for more than two weeks.