Walmart and Target Showcase Retail's 'Renaissance' 
(Bloomberg) -- Stellar results from bellwethers Walmart Inc. and Target Corp. have industry analysts asking: Is retail back?
In truth, retail never went away. Sure, troubled chains like Sears Holdings Corp. and J.C. Penney Co. are cratering, and icons like Toys "R" Us have disappeared. Sure, Amazon.com Inc. is now grabbing about 50 cents of every dollar spent online, leaving traditional retailers to fight over the rest. And of course, President Donald Trump's looming China tariffs could upend finely-tuned global supply chains and clobber profits.
But the headwinds battering retailers in recent months have prompted the best of the bunch -- a group that also includes Nordstrom Inc., Best Buy Co. and Kohl's Corp. -- to up their game. They're sprucing up stores, adding more e-commerce delivery options and improving service with better-trained, higher-paid employees. Those efforts have been turbocharged by what Target chief Brian Cornell says is possibly the strongest consumer environment he's seen in his 37-year career. Unemployment is near record lows, consumer confidence is at a 17-year high and shoppers have their wallets out.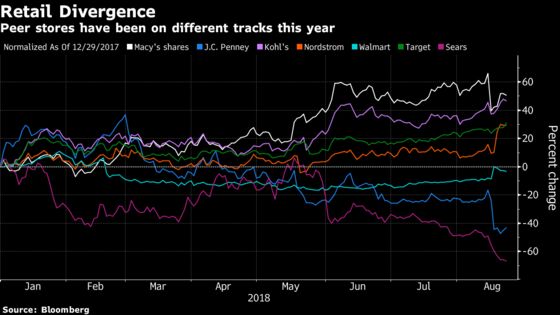 "The American retail sector is enjoying a renaissance," Neil Saunders, managing director at GlobalData Retail, said in a note. "Sentiment is upbeat and spending fairly carefree."
The headline numbers are impressive. Walmart, the world's biggest retailer, posted its best quarterly sales gain in a decade last week. Target on Wednesday did Walmart one better with its strongest uptick in 13 years. Nordstrom and Kohl's also outpaced analysts' projections, with all of them benefiting to some degree from the demise of chains like Toys "R" Us and Bon-Ton Stores.
"There are billions of dollars in market share up for grabs and we are positioned to take that," Cornell said on a call Wednesday. "While a lot of boats are rising, we're moving even faster. There are clearly winners and losers and we think we're migrating to the winners' column."
Those winners aren't just picking at the carcasses of rivals -- they're spending billions to tailor a better shopping experience and deflect the threat from Amazon, which brought in an estimated $4.2 billion from its 36-hour Prime Day promotion last month. Walmart, Best Buy and Target all held their own competing sales the same week, and Target said its one-day web promotion delivered its best-ever digital revenue performance outside of the holidays.
Target's 41 percent online revenue growth was its highest gain since the retailer started tracking that metric separately four years ago, a spokeswoman said. Walmart saw a similar gain from its e-commerce business, which has been boosted by an online grocery pickup program that's now in 1,800 stores and bringing in new customers.
"Well-run retailers are winning right now," Cornell said. "Others can't afford to invest in the store experience or drive differentiation, and they are giving up share."
The losers include CEO-less J.C. Penney Co., which saw its stock plunge to historic lows as it put more items on clearance to get rid of excess inventory. The woes of J.C. Penney's and Sears -- once solid mall anchors -- have created pessimism around the entire department-store sector, hurting rival Macy's Inc., which beat virtually every estimate set by the market but still disappointed investors.
"If you're not doing well now, you'll have a hard time when thing slow down," said Ivan Feinseth, chief investment officer at Tigress Financial Partners.
The winners are also willing to place big bets to find new opportunities. Best Buy agreed to spend $800 million last week to purchase GreatCall Inc., which makes smartphones and other networked devices for seniors. Walmart's Jet.com subsidiary has launched a text-based shopping concierge service for time-strapped New Yorkers. Macy's snapped up concept store Story this spring, which rotates out inventory every three months.
The cost to experiment is high, though. Walmart, Target and others have seen their profitability compress as more of their sales shift to online channels that deliver lower margins, due to the costs of getting the orders to customers.
Other warning signs have appeared. Retailers are building up inventory for the holidays and also to get ahead of potential Chinese tariffs, but if they bet on the wrong products or miss a fashion trend, they could end up stuck with products nobody wants. Target's inventory rose 11 percent, which was "one blemish" in the standout quarter, according to Gordon Haskett Research Advisors analyst Chuck Grom.
Still, as long as the economy stays hot, the best retailers will continue to fire on all cylinders.
"The retail environment has changed," said Alasdair McKinnon, fund manager at the U.K.'s Scottish Investment Trust, which holds shares of Target and Macy's. "But that doesn't mean that traditional retailers are dead."