Hurricane Florence Won't Be as Disruptive for Retailers as 2017 Storms                                                         
(Bloomberg) -- Dillard's Inc. has good reason to be anxious about Hurricane Florence: About 9 percent of its stores are in the storm's path.
Even so, the potential impact pales in comparison to last year, when a third of the department-store chain's locations were disrupted by hurricanes Harvey and Irma, according to data from Bloomberg Intelligence. Those storms, which hammered Texas, Florida and other southern states, kicked off one of the most-intense and costly hurricane seasons in U.S. history.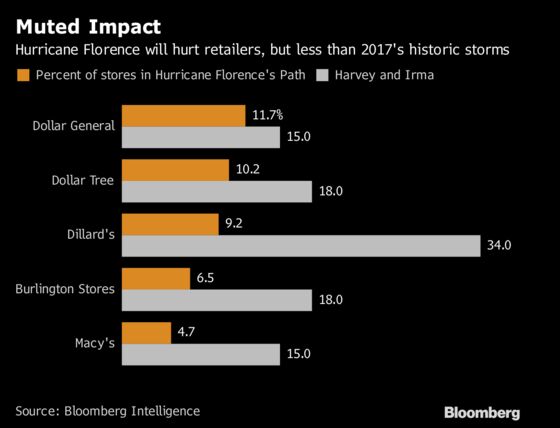 That's why -- unless another major storm hits the U.S. -- the financial impact on retailers in the third-quarter is expected to be much less than last year, according to Poonam Goyal, an analyst for Bloomberg Intelligence. Harvey made landfall in Texas in late August, disrupting back-to-school shopping. Then Irma hammered Florida two weeks later.
"It's not like Hurricane Florence won't pull back sales, but the year-over-year negative impact will be much less than last year," Goyal said. "Let's see how many storms we get."
The total lost consumer and retail sales from Florence could reach $700 million, according to weather-data provider Planalytics Inc. By comparison, Irma and Harvey were estimated to erase about $2.5 billion in sales last year, according to the researcher.
"This is going to be an impactful storm," said Evan Gold, an executive vice president with Planalytics. "It just happens to be hitting an area with smaller population centers, relative to other storms."
For retailers that sell necessities and storm supplies, hurricanes are usually a net benefit because there is a surge of demand beforehand and then purchases afterward during cleanup. Home Depot Inc. and Lowe's Cos. could see a sales lift of as much as 0.6 percentage points from Florence in the second half of this year, according to Consumer Edge Research.
Beyond stores, the Carolinas are also littered with distribution and logistics centers, especially in the clothing industry. Gildan Activewear Inc., VF Corp. and Ralph Lauren Corp. all have facilities in Florence's path, according to Bloomberg Intelligence.